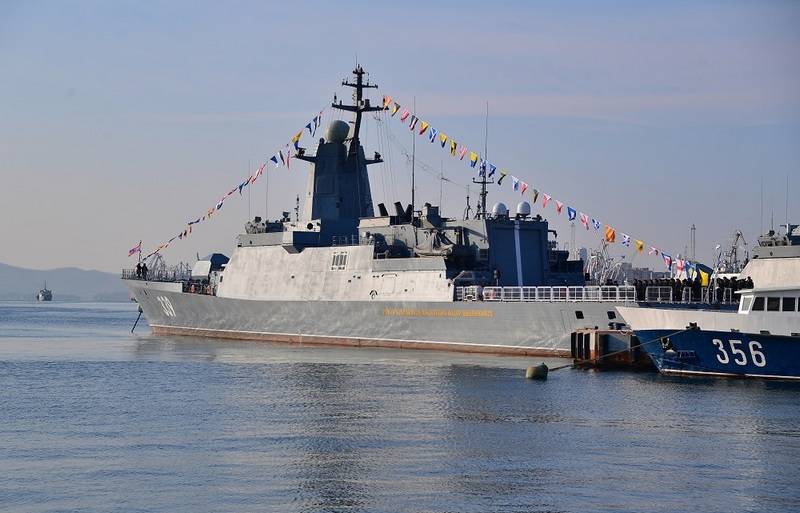 The newest corvette of the project 20380 "Hero of the Russian Federation Aldar Tsydenzhapov" will continue to serve in the Primorskaya
flotilla
The Pacific Fleet, the corresponding decision was made by the command of the Russian fleet. Reported by
"News"
with reference to a source in the military.
The naval command decided to leave the corvette "Aldar Tsydenzhapov" as part of the Primorskaya flotilla of the Pacific Fleet, it will be part of the 165th brigade based in Vladivostok. Initially, it was reported that the ship will go to serve in Kamchatka.
As stated in the Navy, in this way it was decided to strengthen the country's southeastern borders and the naval presence in the Pacific Ocean. The Primorsky Flotilla is actively involved in supporting Russia's foreign policy in the Asia-Pacific region.
The project 20380 corvette "Hero of the Russian Federation Aldar Tsydenzhapov" was laid down in Komsomolsk-on-Amur on July 22, 2015, on September 12, 2019, brought out of the boathouse into the outfitting and transport-launching floating dock, on October 21, 2019, physically launched from the dock. On May 25, 2020, it was entered into the Zeya transport floating dock for transportation to Vladivostok, where it was delivered in mid-June. The ship entered the factory sea trials and state tests at the end of September, and was accepted into the Navy on December 25, 2020.
Project 20380 corvettes are classified as 2nd-class multipurpose combat surface ships of the near sea zone. At the same time, NATO considers project 20380 too large for corvettes, and defines them as frigates. Project 20380 was developed by the Almaz design bureau.