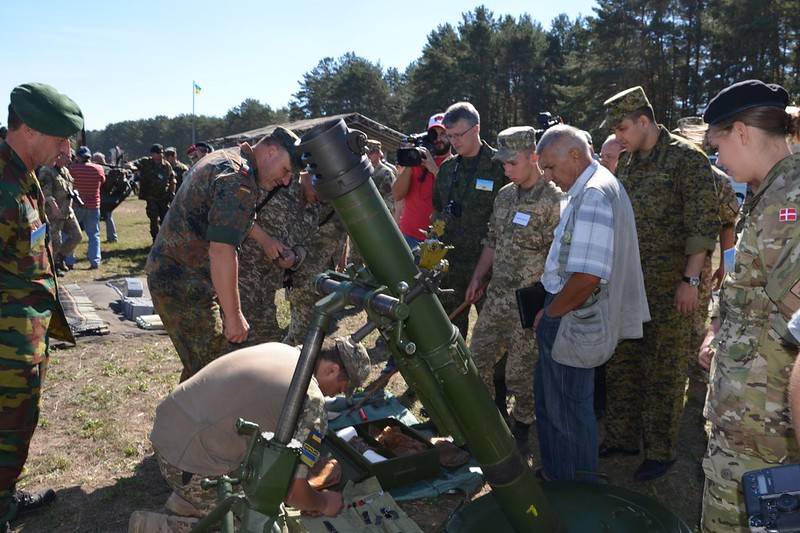 At the Ukrainian plant "Mayak" was modernized mortar caliber 120 mm. Now in Ukraine they are considering the option of adopting this new version of the Molot mortar.
This was reported by the press service of the state concern "Ukroboronprom".
The new version of the mortar, presented during a visit to the enterprise of the head of the concern, Yuri Gusev, allegedly took into account all the comments of the military. According to Gusev, the plant, despite financial difficulties, continues to successfully develop and manufacture products for the needs of the Armed Forces of Ukraine.
For the first time an updated version of the Molot M-120-16 mortar was demonstrated in November last year. First of all, the double-loading fuse was redone on it. Now bronze is used in its construction. It was the imperfection of this detail, according to the developers of the enterprise, that led to a series of accidents in the Armed Forces of Ukraine during the use of the mortar, which occurred in past years.
The wheel platform and plate were also upgraded. Now the mortar can shoot not only from the ground, but also from hard surfaces, for example, from asphalt or concrete.
During the visit to the plant, a presentation of the new M-60-16 60 mm mortar took place.
60mm mortars are a new type of weapon for our army, which will become a powerful support for the infantry units. It is very mobile
weapon
which is successfully operated in NATO today
- noted the chief designer of the plant "Mayak" Alexander Gordeev.