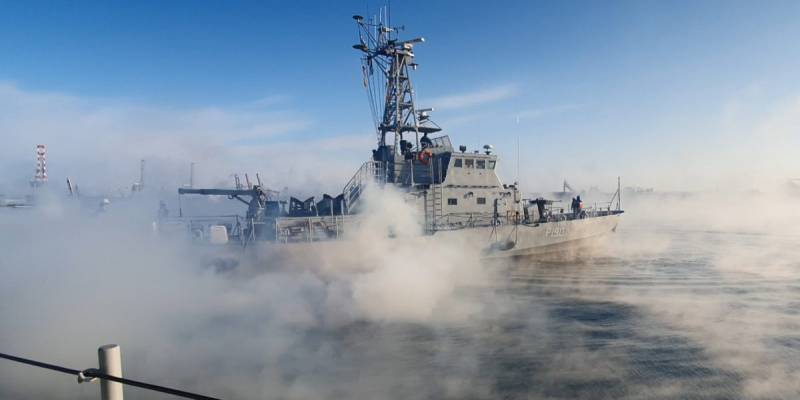 In the naval forces of Ukraine, maneuvers were carried out with the participation of the patrol boat "Slavyansk". This year, he first entered the Black Sea.
Ukrainian "Slavyansk" is an American boat, which was transferred to Ukraine after being written off in the USA. The boat belongs to the type Island ("Island"). In today's Ukraine, such boats are becoming a matter of special pride, despite the fact that not so long ago this country had all the infrastructure for the construction of a variety of ships, including frigates and cruisers. Now the feeling of pride is overwhelming for the transfer of decommissioned vessels from abroad.
The press service of the Ukrainian Navy reports that the crew of the "Slavyansk" boat was training sailing during a storm.
According to the commander of the patrol boat, Lieutenant-Commander Damir Aulin, military sailors in adverse weather conditions exchanged data in order to highlight the maritime situation.
Damir Aulin:
The skills of rescuing a person who was overboard were practiced.
The press service of the Naval Forces of Ukraine notes that "an officer who, as a cadet of the Sevastopol Academy named after P.S. Nakhimov, sang the anthem of Ukraine on the parade ground in 2014, when the occupation forces raised the Russian tricolor, is in command of the" Island "type boat."
Press Service of the Naval Department of Ukraine:
Damir Aulin remained faithful to this oath to the end.
And, apparently as a "reward", Aulin was entrusted with commanding the decommissioned American boat.
The "Slavyansk" maneuvers in the Black Sea were considered successful by the command of the Ukrainian Navy. Although it is difficult to call it maneuvers - rather, a test for seaworthiness. The impression was that the command was checking whether the boat would sink during a storm on the Black Sea ...