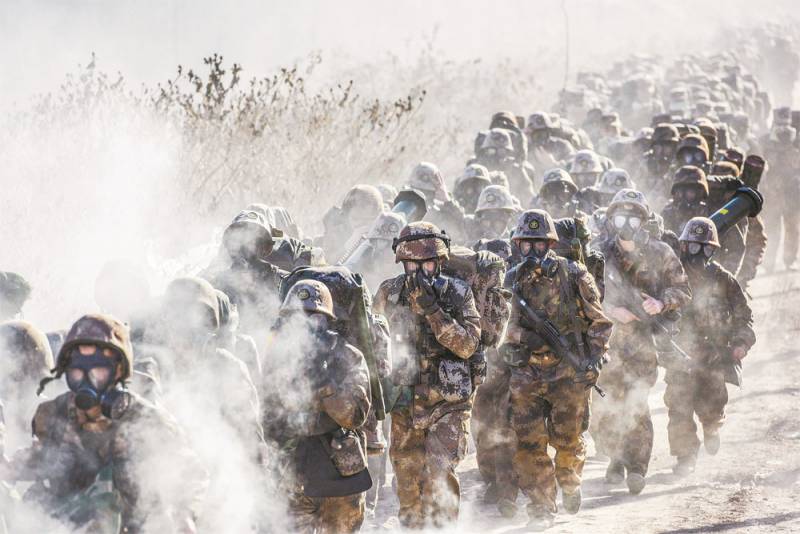 PLA fighters
The Indian edition of DNA published an article, which, to put it mildly, criticizes the policy of official Beijing and announces the threats emanating from China. The author of the material is the columnist Manish Shukla. And the article begins with the commentator reporting on "the brutal Chinese occupation of Tibet, which has continued for decades."
The material claims that the PRC authorities intend to build "an insurmountable security barrier between occupied Tibet and the outside world."
From the article:
China has adopted a strategy of establishing border villages.
These villages, according to the Indian observer, "the Chinese authorities will use to change the demography of the region." It is argued that the percentage of peoples who have traditionally inhabited Tibet will fall, while the percentage of Han people will rise.
For your reference: Han people are the largest ethnic group not only in China, but throughout the entire planet Earth. In the PRC, Han people are more than 90% of the total population.
From the material:
If China strengthens its influence in the region, it will allow Chinese troops access to the Siliguri corridor known as the Chicken Neck. If Chinese forces can influence Chicken Neck, it will be an excellent opportunity for the PRC army to completely cut off India's access to the northeast in the event of war or territorial disputes.
The author writes that this allows the PLA to form a strategic advantage over the Indian armed forces in the region.
Also, the Indian press writes that all this is a deliberate policy of the CCP (Communist Party of China) to "continue the occupation of Tibet."
In general, India is jealous of the development of Chinese infrastructure in the west of the PRC. Railways are being built there, motor roads are being built, electricity is being supplied even to the most remote areas, and comfortable housing is being built. India cannot afford anything of the kind in its border regions in the east of the country. In this regard, China's activities are presented as "occupation activities" and, in addition, as a threat to Indian security.