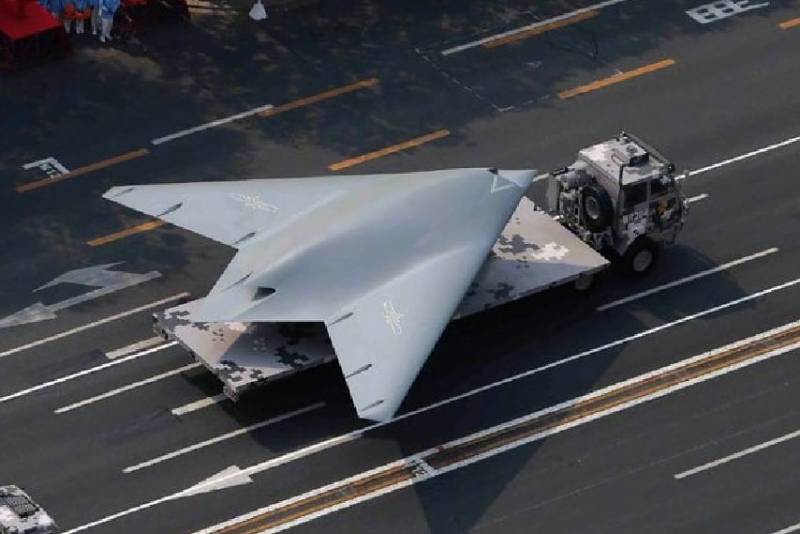 The first snapshot of the Chinese heavy reconnaissance and strike stealth drone GJ-11 Sharp Sword in flight has appeared on the popular Chinese social network Weibo. The device was developed by the Hongdu Aviation Industry Group (HAIG) aircraft corporation.
This year, the unit entered service with the People's Liberation Army of China (PLA).
Drone images have been published before, but no images of the GJ-11 in flight have existed before.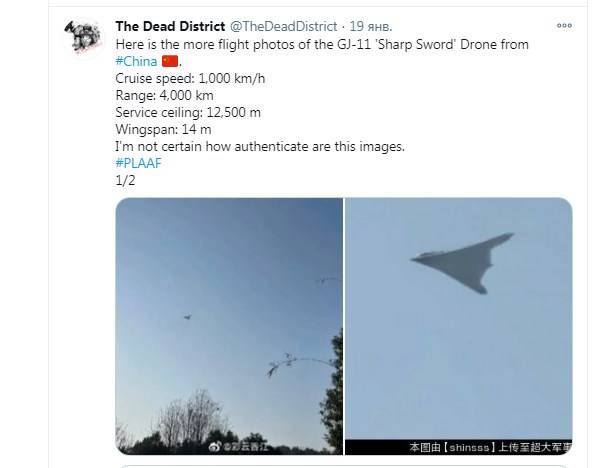 The device is used both for reconnaissance and as an attack drone. On the internal and external sling, it is capable of carrying up to two tons of payload. Its maximum take-off weight is 10 tons. The Chinese UAV is capable of speeds of 900-1000 km / h. Its combat radius is 1,2 thousand kilometers. The drone is equipped with a jet engine and, thanks to the use of stealth technology, is stealthy.
Previously, he could be seen in October 2019, when he took part in the Parade at Tiananmen Square in Beijing, marking the 70th anniversary of the People's Republic of China. In addition, the unmanned aerial vehicle, made according to the flying wing scheme, was demonstrated at a closed UAV exhibition held at the PLA Malan air base, where it was even removed from the satellite.
One of the features of this Chinese drone is the flat nozzle.
1/3
The first flight photo of the new GJ-11 Sharp Sword heavy reconnaissance and strike UAV developed by the Hongdu Aviation Industry Group (HAIG) aircraft corporation has been published on the Chinese social network weibo.
... pic.twitter.com/tW1PPqw0jh

- Jesus Roman (@jesusfroman) January 18, 2021