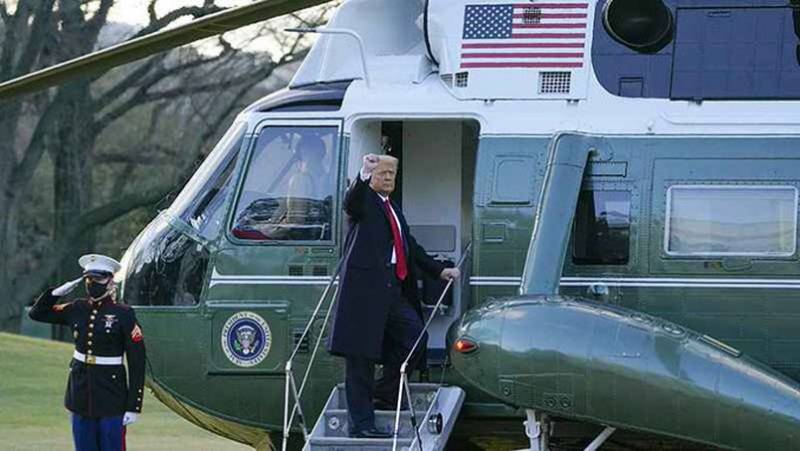 45th US President Donald Trump left the White House a few minutes ago. Together with his wife Melania, he left the residence, got into a military helicopter and departed in the direction of the Andrews military base, which is located about 25 km from Washington.
Donald Trump spoke briefly to reporters, noting that the presidency was "a great honor" for him. The 45th President of the United States of America stated literally the following:
I just wanted to say goodbye to you. The presidency is the greatest honor in my life.
A helicopter with Donald Trump and his wife on board made a circle over the White House. After visiting the military base, Trump is planned to travel to Florida, where his residence Mar-a-Lago is located.
Before leaving, Melania Trump addressed the welcoming Americans:
It has been my greatest honor to be your first lady. Thank you for your love and your support. You will be in my thoughts and prayers. God bless you all. God bless your families. And God bless this beautiful country. Thank you.
The American media writes that Trump will become the first US president in 152 years who will not attend the inauguration ceremony of the next president.
Meanwhile, Joe Biden and Kamala Harris prepare for the inaugural events. They will initially attend Catholic Mass. The inauguration will begin in a few hours.
It is worth noting that Vice President Mike Pence did not participate in Trump's departure from the White House. He is in the Capitol, where he will attend Joe Biden's inauguration ceremony.
NEW: Pres. Trump boards Marine One for the final time as president of the United States. https://t.co/LAQfNGqYOY #InaugurationDay pic.twitter.com/oyjrsmYwVl

- World News Tonight (@ABCWorldNews) January 20, 2021