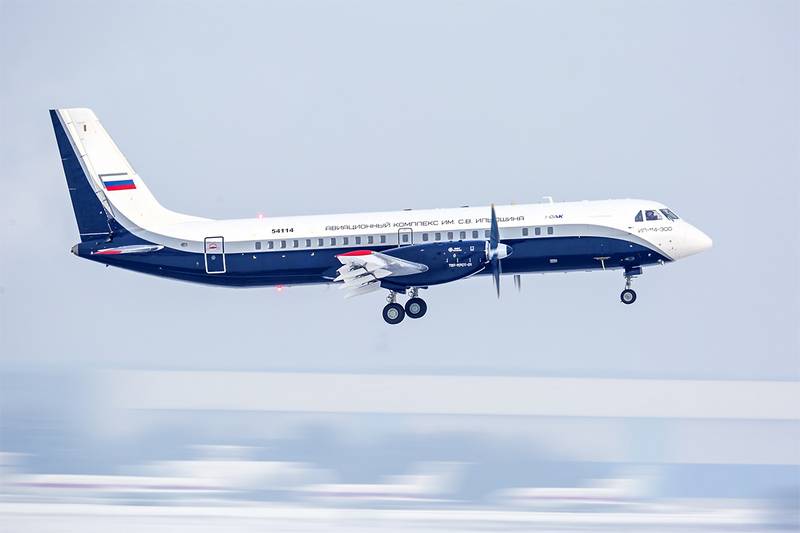 The new IL-114-300 regional passenger turboprop aircraft made its second flight. This was reported by the press service of the United Aircraft Building Company.
According to the report, the flight of the Il-114-300 took place on January 19 as part of the flight test program from the Zhukovsky airfield. The plane, like the first time, was piloted by the crew consisting of the chief pilot of PJSC "Il", first class test pilot Nikolai Kuimov, first class test pilot Dmitry Komarov, first class test flight engineer Oleg Gryazev.
The plane spent 2 hours 47 minutes in flight, climbing to an altitude of 2 thousand meters at a speed of 290 km / h. The aircraft systems and equipment were operating normally, the flight mission was completed in full.
During the flight, the stability and controllability of the aircraft, the operability of systems and equipment, in particular, the power plant, the digital flight and navigation complex, the radio communication system, and so on, were checked. All systems worked fine
- says the KLA message.
The Il-114-300 passenger aircraft is designed for operation on local airlines and is an upgraded version of the Il-114 turboprop aircraft. It is expected that the latest Il-114-300 will replace the aging An-24 and a number of similar foreign aircraft. It is capable of carrying up to 68 passengers at a distance of up to 1,5 thousand km. According to UAC's plans, the completion of certification and the start of serial deliveries are scheduled for 2022.