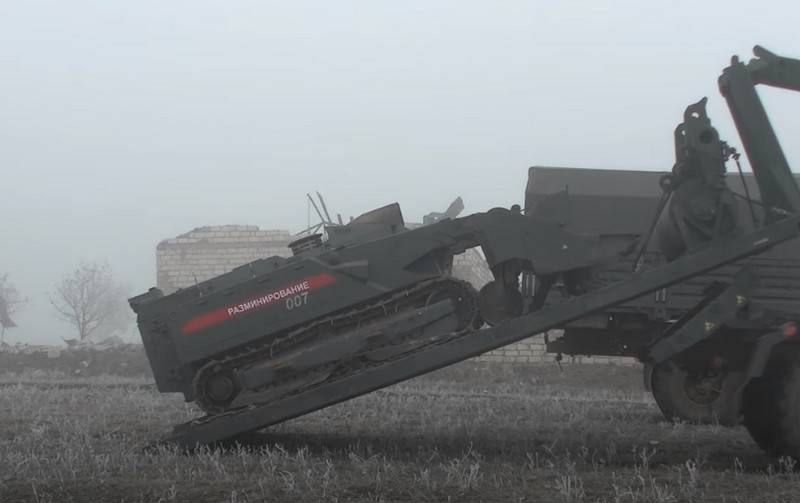 The Ministry of Defense has decided to equip the engineering units of the Naval
fleet
by robotic sappers "Uran-6". Reported by
"News"
with reference to a source in the Ministry of Defense.
The Navy, following the Ground Forces, will receive the mobile robotic demining systems MRTK-R "Uran-6". The first vehicles have already entered service with the engineering regiment of the Black Sea Fleet.
As stated in the military department, the complexes will be used for demining the coast, and they can also be attached to the Marine Corps units. In addition, Uran-6 can be used to eliminate the consequences of industrial accidents.
The start of deliveries of the Uran-6 sapper complex to the Ground Forces was announced in mid-July last year. The first batch of MRTK-R entered service with the 16th engineer regiment of the 20th Guards Army of the Western Military District (ZVO). Currently, the complexes are widely used in the troops, they are demining in Syria and Karabakh.
"Uran-6" is supplied with a platform for transportation, which is a KamAZ equipped with a "multilift" system and a platform for changing trawls. The robotic complex located on the platform in a short time descends to the ground using a hydraulic drive and also quickly rises. The process takes a maximum of 4 minutes.
MRTK-R "Uran-6" is designed for making passages in minefields, as well as for areal clearance of territories. Depending on the cleared area, the machine can be equipped with a roller, striker or milling trawl, a dozer blade or a mechanical grapple. The weight of the machine on a light tracked platform is about 6 tons. Control is carried out by one operator, who is at a safe distance from the robot (up to 1 km).
The complex was tested in Syria during the clearance of Palmyra, Aleppo and Deir ez-Zor. As a result of the "Syrian business trip", the complex was modernized taking into account the comments identified during its operation.