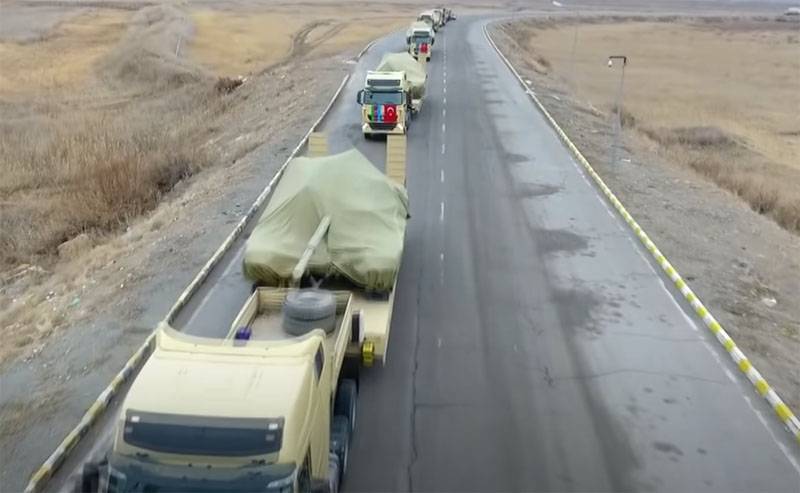 The Turkish Ministry of National Defense reported that Turkey and Azerbaijan are preparing for the winter military exercises, which will be held near the borders of Armenia from February 1 to 12. Now it became known that Azerbaijani servicemen arrived in Turkey on January 17 to take part in these maneuvers, called "Winter-2021".
This is reported by the Turkish portal Defense Turk.
The exercises will be held in the area of ​​the city of Kars, which previously belonged to the Russian Empire, and today is located 80 kilometers from the border with Armenia.
The Turkish Ministry of National Defense issued an appeal to the Azerbaijani army, which arrived for the maneuvers.
It is with great pride that we say "Welcome" to our brothers, who won a great victory over the Armenian army in Karabakh. We will continue to work as "one heart, one wrist, one fist" with our understanding of "one nation, two states!"
- says the appeal.
Published footage showing Azerbaijani units heading from Nakhichevan to the Sadarak border crossing to arrive in Turkey.
During the exercise "Winter-2021" they will practice the landing of tactical airborne assault and strikes
aviation
... Special forces, tankers, gunners, snipers and helicopter pilots will be involved in the maneuvers.
Earlier in September last year, Ankara and Baku held the first stage of joint exercises in Nakhichevan. The maneuvers took place within the framework of a military cooperation agreement signed by Turkey and Azerbaijan.