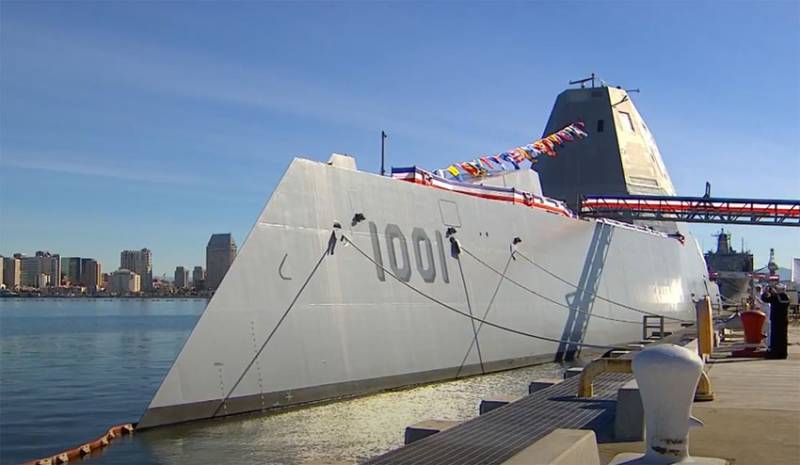 A French military observer assessed the state of affairs in the US naval forces in terms of the appearance there of two newest Zumwalt-class destroyers. We are talking about the first ship of this type - with the name that gave the name to the whole class - USS Zumwalt, as well as the first serial stealth destroyer USS Michael Monsoor. Recall that initially the United States planned to use them as the latest strike weapons
fleet
, and then there were problems with funding, weapons, and therefore these stealth destroyers have not yet found their "niche" in the US Navy.
Jean Ginel's article says that the project of the American Zamwalt-class destroyers is currently failing:
The United States Navy suffered a setback with this overpriced ship and, as it turned out, not distinguished by much combat power.
The French observer writes that at first this warship was supposed to become a strike destroyer of the far ocean zone, then its status was downgraded to the leading ship to support the landing and ground operations.
Jean Guinel:
But all this eluded the US Navy, and the destroyer Zumwalt became a caricature.
The Le Point journalist writes about the extraordinary cost of both the entire program of creating American stealth destroyers, and the incredibly high cost of each built warship.
From the material:
Destroyers began to cost about $ 6 billion. This is more than the price of the aircraft carrier Charles de Gaulle with an air wing. And in the United States they decided that the program of 32 such destroyers would not be pulled financially.
Subsequently, the price of the destroyer fell, but for this it was necessary to abandon a number of weapons, including a promising rail gun, which had not been brought to mind.
The French press is rather caustic about the fact that the money has already been spent, and the ships have not yet found their specific application and are not moving far from their home ports. In particular, it is reminded that breakdowns have already happened to them, as a result of which there was a loss of progress, and tugs had to get into business.