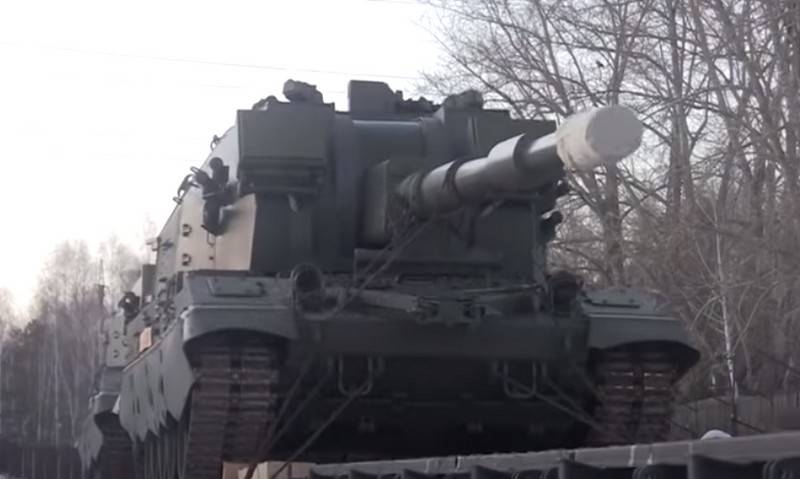 The Southern Military District will receive the 2S35 "Coalition-SV" howitzer. An experimental batch of long-range self-propelled guns will be put into service with one of the district's units in the near future. Reported by
"News"
with reference to sources in the Ministry of Defense.
According to the newspaper, the testing of an experimental batch of self-propelled guns "Coalition-SV" is currently being completed. The entire batch will be sent to the Southern Military District, there is no further information. According to military experts, new equipment almost always initially arrives in the Western and Southern military districts bordering NATO countries.
The delivery of the "Coalition-SV" self-propelled guns, which has a conventional projectile firing range of 70 km, is a response to the increased activity of the Western alliance on the southern borders of Russia.
Note that a pre-production batch of 10 self-propelled guns "Coalition-SV" was delivered to the first
tank
Army ZVO back in May 2020, where it is being tested.
The 152-mm howitzer 2S35 "Coalition-SV" was first officially presented in Moscow at the Victory Day parade on May 9, 2015. Earlier it was reported that state tests of the Coalition-SV self-propelled guns should end in 2022, the terms of serial deliveries to the troops will be determined later.
The self-propelled howitzer 2S35 "Coalition-SV" is designed to destroy command posts, communication centers, artillery and mortar batteries, armored vehicles, including tanks, anti-tank weapons, air defense and missile defense systems, as well as manpower of a potential enemy. The shooting of the newest SAO is more automated and computerized, the howitzer can operate in the "Flurry of Fire" mode, in which several shells fired from the gun at different angles simultaneously reach the target.
The basis of firepower is a 2 mm 88A152 gun with a firing speed of more than 10 rounds per minute, which is higher than the firing speed of other artillery systems.
In May last year, the Burevestnik Research Institute announced the start of testing a wheeled version of the Coalition-SV self-propelled guns on the chassis of a KamAZ-6550 vehicle. According to the developers, the wheeled "Coalition-SV" has a number of advantages over tracked vehicles. It is more mobile and able to travel on normal public roads. In addition, a self-propelled howitzer based on a KamAZ vehicle has a longer service life than the tracked version.