The Turkish military is going to conduct a large-scale operation against the armed detachments of the Kurdistan Workers' Party. In Ankara, the PKK is recognized as a terrorist organization and is considered one of the main troublemakers in the region. At the same time, Ankara is going to build a coalition against the PKK in order to act not alone, but with joint forces. One of the members of such a coalition in Turkey sees Iraq, on the territory of which (including) the mentioned Kurdish armed groups operate.
It became known that the Turkish Defense Minister Hulusi Akar and the chief of staff of the Turkish Armed Forces, Yashar Guler, went to Iraq to discuss with the authorities of this country a joint operation against the Kurdistan Workers' Party.
The Turkish delegation in Baghdad was received by the President, Prime Minister and Minister of Defense of Iraq, with whom a possible future operation was discussed. Akar noted that "the PKK continues to pose a threat not only to Turkey, but also to Iraq itself."
Hulusi Acar:
Coordination of actions against terrorists play a key role. We remind you that the PKK is recognized as a terrorist structure not only by Turkey, but also by the United States and the European Union. Tens of thousands of people were killed by the PKK.
According to the Turkish Defense Minister, Ankara respects the territorial integrity of Iraq and offers to work together.
After meeting with the Iraqi authorities in Baghdad, the Turkish delegation of the Ministry of Defense and the General Staff went to Erbil, the capital of Kurdish autonomy, which is de jure part of Iraq, but de facto managed to turn into a territory that has many attributes of an independent state.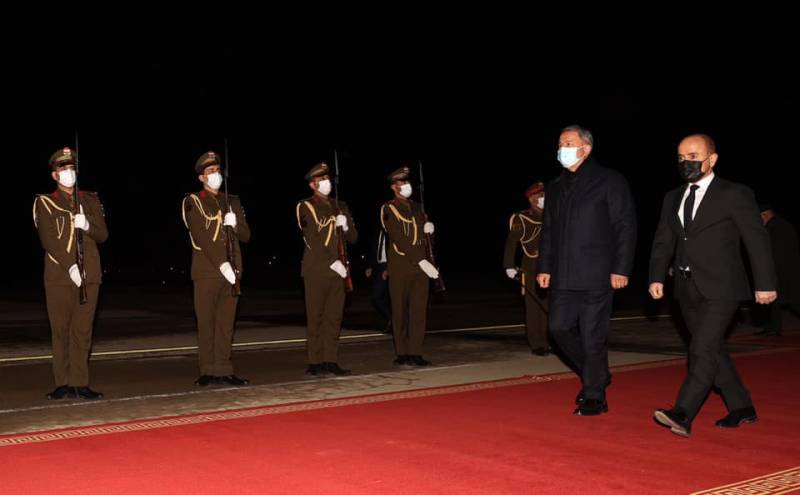 It is important for Ankara to enlist support in its upcoming operation against the Kurdistan Workers' Party not only from official Baghdad, but also from Erbil, in order to emphasize the thesis being promoted: "Turkey is fighting not against the Kurds, but against terrorists." There is no data on their results of the meeting in Erbil yet.