When the peasants raise a landlord, who has fallen for years, on pitchforks, and burn his estate, it smacks of revolution. No one asks himself the question: why and why do peasants do this? The reason is clear even to the most ardent opponents of the revolution. It is clear to them that what may follow further if the power does not go to the economic and political reforms that the people crave.
When the factory laborers spontaneously rose throughout Russia in the 1905 year against the bourgeois, the royal power, with all its rejection of protests and barricades, was well aware that the rebels wanted a better life (and not necessarily communism and common wives, as Marx and Engels hinted at) . Later, both the German Leninist money and the sealed-up car turned out to be only a catalyst for the process, and not a cause.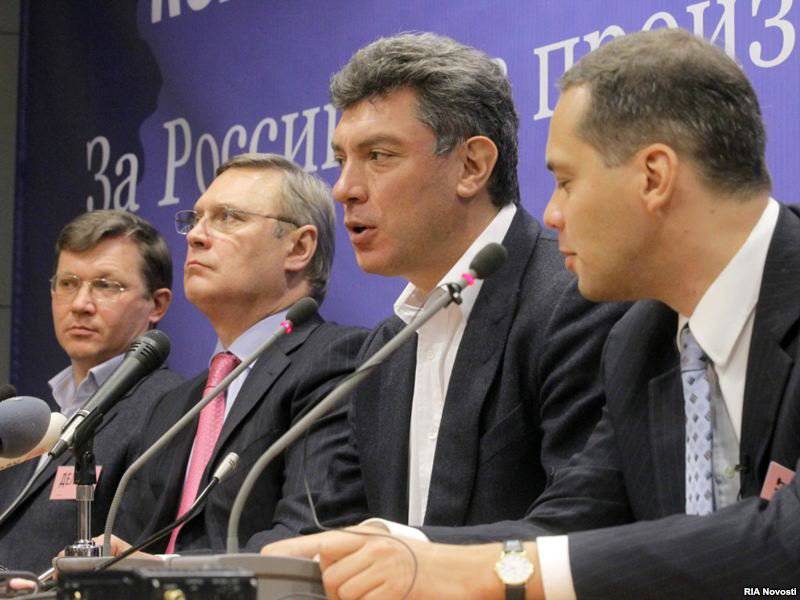 When now in Russia there are meetings against the regular increase in tariffs for housing and communal services, electricity and gas and angry communist voices are heard against the collapse of the industry, the protesters can also be understood. And need to. Because the Soviet industry is really collapsed, and tariffs are really rising. Energy sales companies, for example, increase them twice a year - according to a pre-approved plan.
But it is much harder to understand the current gentlemen of the opposition. When the middle class — members of the board of directors there are different, chairmen of any organizations provided with grants from abroad, television stars, and other very wealthy people — take to the streets (Moscow, of course) and demand something there, I confess that makes me think about the coming popular revolution.
Do these opposition fighters really have little freedom and democracy, thanks to which they can act in general in the country and attract others to their activity - mostly those whom their mothers little flogged as a child?
Outrage is also caused by the fact that, unlike the poorest peasants, for whom a good shovel, pitchfork and hoe were a fortune, modern fighters for a better life, in addition to improved housing in Moscow, have bank accounts, electronic money, and millions in apartment safes, and wealthy sponsors, including overseas, periodically unfastening them rubles, euros and dollars. Who will give to organize a rally on Bolotnaya, who will throw on the propaganda in Russia that the Kuril Islands -
historical
part of Japan, and who just betrays it, by political immaturity: thinking that there is really a lack of democracy within the MKAD.
Here, for example,
mister Navalny
- The number one man from the opposition, who became famous for his fight against corruption, in which he had not yet put anyone in prison, or as a victim of a search, in which even a children's camera was seized from his apartment.
Who is this person, what lives? He is a member of the board of directors of Aeroflot, the author of the famous blog in LiveJournal, the projects RosPil, RosYam and Kind Machine of Truth (new project). Who
sponsored
his opposition activities? Alexander Lebedev, Leonid Parfyonov, Grigory Chkhartishvili (Akunin), Dmitry Bykov and other Muscovites, who are known for competing with Navalny and who are also not Russian poor.
Also curious that
Navalny's favorite hero
- Schwarzenegger, and he claims that only high school students could beat him at school, had home-made nunchucks, and in general, apparently loved to fight - especially to blood. At the same time, the press writes that he was afraid to open the door to the riot police, who appeared to lawfully search him, and the door of the apartment was open only after his wife persuaded: "Julia intercepted him in the bathroom with
the news
: the people outside the door turned on the electric saw. "She said: I guess we must still open,"
recalls
Bulk ".
Alexey Navalny, which
said
: "Not so much is being stolen in Russia. There are five pro ... annas for one sleep ruble, "nevertheless, it fights against corruption, and not against" pro ... ats "rubles.
In addition, this blogger and oppositionist with three higher educations (Peoples' Friendship University of Russia, Financial University under the Government of the Russian Federation and Yale University, where Garry Kasparov recommended him, among others) is well aware that "now Russia is the richest in its history and the freest. " True, a huge amount of money in Russia, which gives "a chance for grand changes," in his opinion, is unlikely to be used to realize the chance.
Despite the huge money and great freedoms, in Russia, according to Navalny, for some reason a revolution is inevitable. He just says: "A revolution is inevitable. Just because most people understand that this system is wrong. When you sit in a party of officials, most of all talk about who stole everything, why nothing works and how awful everything is. "
The standard of management quality for Navalny is ... Georgia: "Everyone is ready to live honestly. Look at Georgia. If 20 people - those who are at the top - will begin to follow the rules and laws, they will force all the others to follow the rules and laws. "
A brief "manifesto" Navalny
in the group "VKontakte"
:
"You just have to stop the thieves from stealing: rospil.info.
To force them to repair roads: rosyama.ru.
Wake up people around you: mashina.org. "
"This is our country," Navalny writes here. - This is our money. These are the roads you can drive. This is normal medical care. This is a quality education. This is the hope of a better life for us and our children. Join us! "
If we replace "Join us!" With "Vote for Navalny!" (Which, I think, we will hear in five and a half years), then the message will become clear.
There are rumors on the Internet that Navalny is a man drawn somewhere (he does not know) over the course of his own blogs. That is, everything happened to him by chance, somehow by itself. Other rumors, the opposite, are based on the fact that Navalny has carefully planned everything from the time of his minority shareholder, when he mastered the practice of courts with companies, having previously bought a few of their shares. There are also versions that he is a CIA agent, and at the same time the FSB, or plans to become the first or, at worst, the second. Other, the most enlightened hearsay, suggest that he is Putin's secret creature, so secret that even his searches are very real — with the withdrawal of his son's digital camera and 10.000 rubles in money (much less than K. Sobchak, by the way) , about what is howling on the Internet and in paper democratic newspapers and magazines, including those published in Latin.
Those interested can still read on the Internet correspondence Navalny and White, opened by hacker Halle. Perusal is not for me.
And further. FOM recently conducted a regional survey (1500 respondents from 100 urban and rural settlements of 43 subjects of the Federation), from which it turned out that A. Navalny is not known to anyone except the Moscow inhabitants of the Internet. I exaggerate, of course, but
judge for yourself
: this oppositionist is supported only by 8% of Russians; 12% of respondents expressed a negative opinion of him, and as many as 63% said they did not know who he was.
Another interesting figure from the camp of the current Russian opposition -
Ksenia Sobchak
, the former TV star, the former leader of the scandalous and still being filmed TV series "House-2" (it seems that this series is even listed in the Guinness Book of Records as the most durable in the world).
It is very difficult to say what this girl lacked in life. The safe in the apartment is crowded with millions, its popularity among TV viewers across the country is simply catastrophic (for Russian morality), security is ensured even by the fact that she is Sobchak's daughter, which means that Putin's figure is invisibly present in her body - as if fitting her body armor . Not a single "burglar" at her safe, piled high with envelopes with cash, did not encroach. And the riot police, as opposed to the cowardly gentleman Navalny, opened the doors in the early morning Xenia with ease: come in, they say, the housekeeper, I have Illyushka Yashin just now trampled on me.
Exchange this enviable zhituhu heavy share of oppositionists? No, few will understand Xenia. It reminds very little of a peasant woman ruined by an evil landowner with a pitchfork ... One can only assume that Xenia brought millions from the safe, in addition to some unknown authorities of the millions, not Xenum's House-house and corporate parties, but just generously paid opposition the activity leading the TV star was quickly recognized - despite the first cold reception from the street public.
Oppositionist
Ilya Yashin
so calm
He slept in Sobchak's apartment, which even the machine gunners who bent over him on the day of the said search in the morning, he took for the people hired by Ksyusha - for the sake of a rally on the eve of the rally.
Yashin is different from his comrades in the fight in that he acts professionally in protest actions: he graduated from the political science department of the International Independent Ecological-Political Science University and defended a diploma in the method of organizing street protests.
Together with Navalny he
consisted
in the Yabloko party, and, like Navalny, was excluded from there. He works in Novaya Gazeta, actively participates in political life on the side of the opposition. Yashin and Sobchak, as well as the oppositionist of Russia №1 Navalny, also, apparently,
love a fight
: "March 23 The Moscow police department 2012 opened a criminal case about the attack on two reporters of the Life News portal in a Moscow restaurant on Tverskoy Boulevard; the conflict participants were Ilya Yashin, Ksenia Sobchak and other well-known oppositionists. According to the victims, 12 of March, noting that they were being shot, they beat the journalists and broke their video camera. Yashin and Sobchak denied the attack, accusing reporters of provocation. " V. Putin Yashin considers "the enemy of freedom" and finds that he must be removed from power.
Another "friend of freedom" in Russia is
Lev Ponomarev
. He has a slightly different path - he is not just an opposition figure, but also a human rights activist (by the way, Navalny is a lawyer. If I am not mistaken, he passed the exam for this proud title in the Kirov region).
Ponomarev, unlike opposition youth, is already old (1941), yes, superstar, as in the joke about Brezhnev. However, it is far from being a star of K. Sobchak or Navalny. But he managed to make a good political career in those times when they did not hear about the Internet in the country: L. Ponomarev was noted not only as a deputy of the National Assembly of the Russian Federation, a member of the federal political council of the United Democratic Movement "Solidarity", executive director of the all-Russian movement "For human rights ", but also a deputy of the State Duma of the Russian Federation of the first convocation and a people's deputy of Russia and a member of the Supreme Soviet of Russia (this was still in 1990-1993). Ponomarev - Doctor Phys.-Mat. Sciences, Professor. In general, another Moscow gentleman who should have enough bread and butter and caviar and a glass of brandy.
Leo is famous for the fact that in 2009, Barack Obama himself mentioned that it is not good to beat Ponomarev.
In addition, this Ph.D., being the leader of the non-profit organization "For Human Rights", became famous for his confidential conversation in a cafe with a representative of the Japanese embassy, ​​alas, shot by a hidden camera and then published by Komsomolskaya Moloka (March 2012). Ponomarev asked for money from the Japanese, at the same time informing that now his oppositional activity is being financed by generous America.
Ponomarev is not a weary proletarian, offended by the burzhuin, the owner of the match factory. If this professor is taken to defend the truth, then only, excuse me, for the loot.
"Do you want to tell the truth, tell the truth? -
nervous, in a hurry to explain his motives Lev Ponomarev
. - Only money is needed. Only money is needed. Honestly. Need resources. Here I have ... here I am ... Only Western funds help me. Need resources, understand? Only resources. There are a lot of people in the regions, and if you start paying them little money at all, they will give up their professional work. Only resources are needed. And I can not find them in Russia. They do not give us. " Even a battered Japanese man is shocked by the statement of a human rights activist.
"Right now I'm only American, yes, it's true that only American funds give money. It's true. Yes. That accuse me is true. Only American funds. Well, if we touched on this topic, I can tell you right away, anyway, I would finish on that note - I'm not afraid to turn to Western people. Here we could find an opportunity to develop. And, maybe, it would not even cause irritation in power, if Japan supported, would give a grant for the development of civil organizations in the Far East. Do you understand? "-
convinces Lev Ponomarev Japanese diplomat
».
And so the civil organizations in the Far East, with Japanese money ... Even the most stupid Japanese would understand Mr. Ponomarev, at the beginning of the conversation clearly
made clear
that he always supported the transfer to Japan of the two islands of the Kuril ridge - Shikotan and Habomai.
Well, enough of these oppositionists and human rights activists. In the end, Lenin, if you believe Melgunov, who tried very hard to be unbiased, did not disdain German zolotishkom. Another thing is that Lenin (the Bolsheviks) had a historical situation in their hands, and Navalny and Ponomarev only sponsored money in their hands. And this, you see, looks very different.