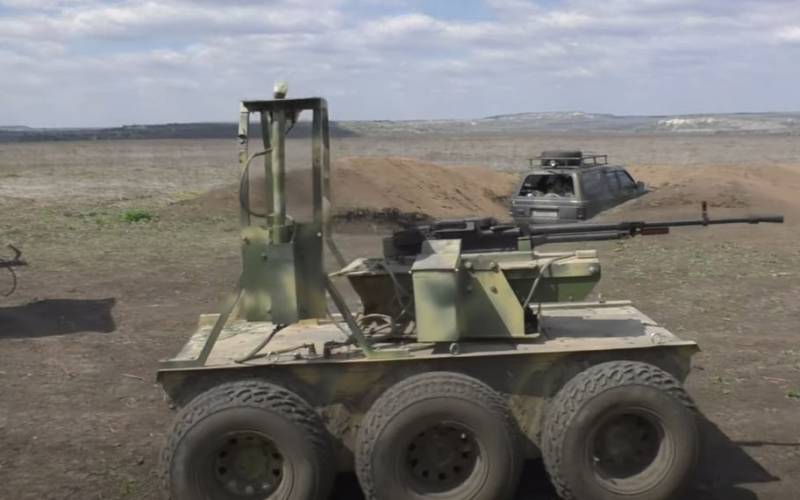 RSVK-M "Hunter" from KB Robotics is one of the few Ukrainian ground-based drones used in real combat. It has been successfully tested for several years in units of the Armed Forces of Ukraine participating in military operations against the republics of Donbass.
The journalists of the Ukrainian edition of Defense Express talked with the representative of the manufacturer of this equipment Ivan Kirichenko, who spoke about the development, the experience of its application and its prospects.
He said that he initially created a stationary shooting complex, which was successfully tested in Donbass in 2016. But its mass, which is 120 kg, makes it difficult to deliver it to the "zero" zone and does not allow to quickly change positions. Therefore, they decided to create a mobile ground platform for him.
It turned out that this platform is more effective as a transporter and tow truck. Then, in the fall of 2016, the shooting complex was removed from it and transferred to one of the brigades of the Armed Forces of Ukraine, participating in the so-called "Operation of the Joint Forces", that is, in the war against Donbas. There, this technique was used in the delivery of goods to remote locations. In this regard, the name "Hunter" clearly does not correspond to the purpose of this platform.
This experience became the basis for the creation of a modern version of this machine - RSVK-M. This 600 kg platform has a 6x6 wheel arrangement with DC motors with a total power of 6 kW. One battery charge is enough to run up to 10 kilometers on difficult terrain. On a good road, the drone's range is much greater. Its ground speed is up to 10 km / h.
In the fertile Donbass chernozems, covered with tall grass and dead wood, RSVK-M, which is 70 cm high, is said to be "completely invisible."
In 2018, the General Staff of the Armed Forces of Ukraine has already announced how many such complexes it needs, but it is not possible to close this need, since the manufacturer is not ready to launch mass production due to lack of funds. KB Robotics does not receive any financial investment from the state, therefore it has to make do with its own resources and voluntary donations.