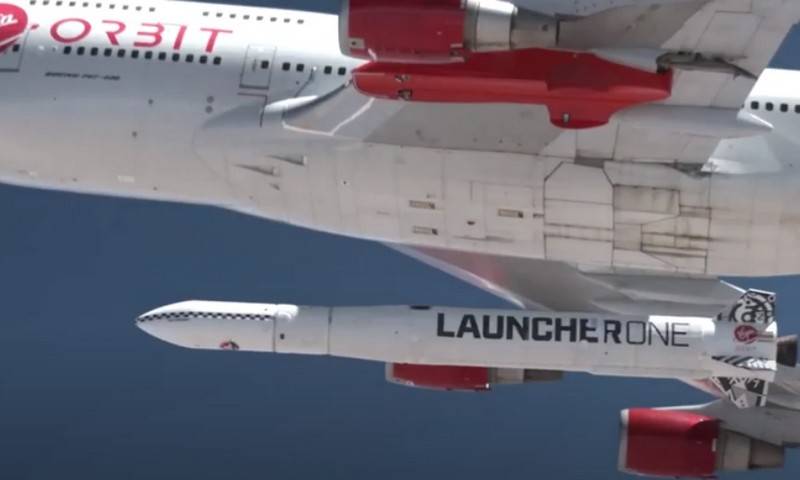 Richard Branson's American Virgin Orbit air launch vehicle LauncherOne reached its intended orbit for the first time. This is stated on the company's Twitter page.
During a test flight, a modified Boeing 747 with a LauncherOne rocket took off from an airfield in Mojave, California. Being over the Pacific Ocean, about 150 km from the city of Long Beach at an altitude of 10,2 thousand meters, the plane dropped a rocket, which, after separation, turned on the engines and began to enter orbit. As a load, the rocket delivered ten minisatellites into orbit.
We are proud to say that LauncherOne has completed its first space mission, bringing satellites into space for our NASA friends.
- said Virgin Orbit.
LauncherOne booster has been in development since 2008. In October 2015, the company announced successful firing tests of rocket engines, and on November 18, 2018, the first flight tests took place in California.
As stated in the company, Launcher One rocket is designed to launch small satellites and can put into orbit a load up to 500 kg. It is a one-time two-stage rocket that will be launched from under the wing of a modified Boeing 747 aircraft. The length is slightly more than 20 meters, the weight is approximately 25 tons. A feature of this rocket is the ability to launch at any time of the day without the use of space centers, but only if there is a runway for the aircraft carrier. The plane rises to an altitude of 10 km, after which it must bend over 25 degrees and release the rocket.
An aerial launch vehicle is of great interest to the Pentagon, which wants an alternative technology to quickly launch satellites into orbit.