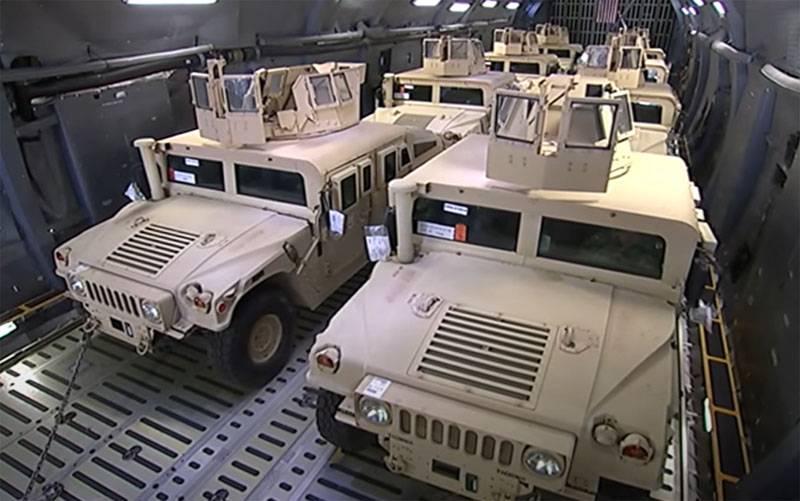 The Polish press drew attention to the continuing deliveries of military equipment and weapons to Ukraine from the United States in 2020. Earlier, Voennoye Obozreniye reported that Ukraine received 20 Humvee armored vehicles and boats from the United States. US military aid to Ukraine in the amount of a quarter of a billion dollars is slated for 2021. These funds are already included in the US military budget, a draft of which, as you know, President Trump rejected, but his veto was overcome with the help of Congress.
The Polish media note that the Ukrainian army "is trying to switch to NATO standards." Previously, it received from Washington counter-battery radars, Javelin anti-tank missile systems, Island-class boats decommissioned in the United States, and large-caliber sniper rifles.
Polish readers comment on the Ukrainian "transition to NATO standards." In particular, it was noted that for Ukraine this transition could drag on for decades, since billions of budgetary funds allocated for the rearmament of the Ukrainian army are leaking into the pockets of Ukrainian oligarchs.
A few comments from readers of the Polish press (translated from Polish):
Asf:
It would be better if they handed these Humvee armored vehicles to us (Poland).
Aż tyle:
This is more psychological help so that Ukraine does not give up.
Herr Wolf:
If this is American aid, then why is Ukraine often offered to pay for it? ..
Some Polish readers lamented that the United States "does not give them military equipment as aid," and added that they would like to take Ukraine's place in this regard. This complaint was answered by a reader of the Polish resource Defense24 under the nickname Adam S.
Would you really like to be in the place of Ukraine - to get equipment worth $ 250 million, wage war with Russia in the country and kill 13 thousand people? Really?
Many, commenting on the situation with US military assistance to Kiev, are very jealous of the US arming Poland's neighbor.