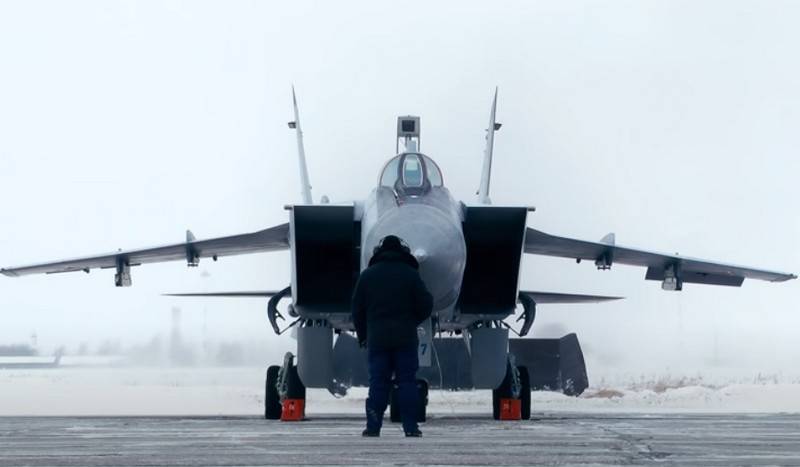 The MiG-31BM high-altitude fighter-interceptors will cover the Russian borders in the Arctic. According to the press service of the Northern
fleet
, the aircraft are stationed on the Novaya Zemlya archipelago.
The crews of the MiG-31BM of a separate mixed air regiment of the Northern Fleet took up experimental combat duty to guard the state border on the Novaya Zemlya archipelago
- said in a statement.
The ceremonial ritual of interceding on experimental combat duty took place at the Rogachevo airfield, where the MiG-31BM pilots had already performed combat missions last year.
Aviation
will control the state border in the Arctic and close the airspace over the Northern Sea Route.
It is noted that on the Novaya Zemlya archipelago, pilots will be on duty together with anti-aircraft gunners. There is an anti-aircraft missile regiment of the 45th Army of the Air Force and Air Defense of the Northern Fleet, armed with S-400 air defense systems.
In early December 2020, the Pacific Fleet's naval aviation covered the Arctic from the Far East, deploying high-altitude interceptors MiG-31BM at the Anadyr airfield - closer to the US borders. Aircraft crews have already taken up combat duty.
Note that in 2019, the military department announced plans to make all Arctic airfields all-season. Even earlier, in 2016, it was announced about strengthening the air defense of the Arctic and the return to this region of the high-altitude interceptors MiG-31 and MiG-31BM as elements of air defense. According to the plans of the military department, the MiG-31 will serve in the North until a new high-altitude interceptor appears, which will replace the "thirty-first".