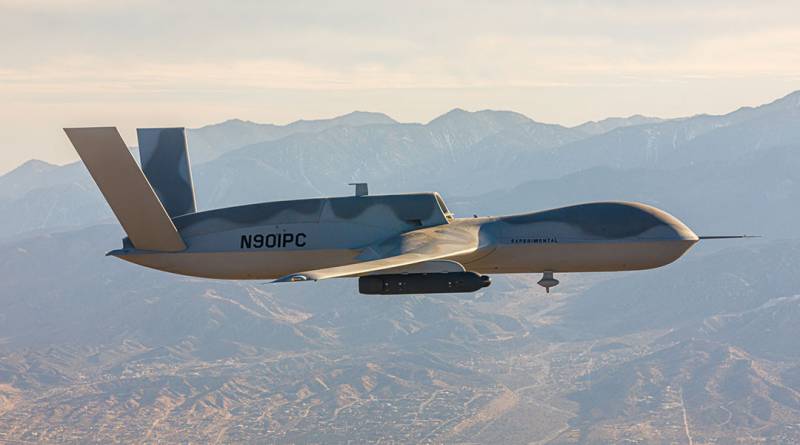 General Atomic has conducted flight tests of its stealthy Avenger drone. It differs in that the Legion Pod container from Lockheed Martin is integrated with it.
This container has an infrared sensor for searching and tracking a target, including means
aviation
(planes, helicopters, UAVs), moving at a great distance. The unobtrusive Avenger drones, as indicated by the manufacturer, can be used both autonomously and as wingmen in joint operations, for example, with fighters. However, for the last specified option, certain difficulties arose in the USA. They are connected with the selection of the optimal and secure data exchange channel.
According to the latest information, flight tests of this drone took place for about an hour and a half. The main task was to find out how much the Avenger's aerodynamic and stealth characteristics will change if he carries the Legion Pod container on a special pylon.
A division of General Atomic - ASI - reports that it took less than 3 months to go from the concept directly to the use of the target designation container on the UAV and its control.
The creation of new equipment for unmanned platforms in the United States is carried out as part of a special Skyborg program, which is associated with the development of systems controlled by artificial intelligence. The Legion Pod container is an artificial intelligence system that allows the drone to be used in various options, including autonomous flight and target search options.
The Avenger has an in-body compartment to accommodate
weapons
, including air-to-air missiles.
The developers report that, unlike conventional radars, the Legion Pod's IRST sensors work passively.
Company representatives:
This means that the tracked aircraft may be unaware that it has been detected. This is an excellent alternative to classic radars, especially in terms of countering the enemy using electronic warfare systems.