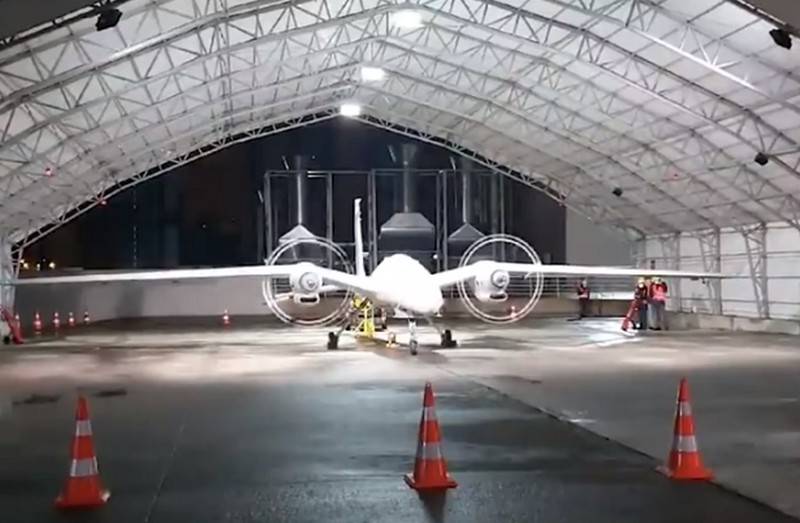 In Turkey, ground tests of the third prototype of the Bayraktar Akinci strike drone have begun. This was reported by the press service of Baykar.
It is specified that the drone is equipped with two Ukrainian-made AI-450T turboprop engines. The contract for the supply of 20 AI-450 turboprop engines for installation on Turkish drones was executed by the Zaporozhye Machine-Building Design Bureau "Progress" named after Academician A.I. Ivchenko in the first half of 2020.
Akıncı belongs to a new class of "heavy" drones. The wing span of Bayraktar Akinci is 20 meters, the length of the aircraft is 12,2 meters, and the height is 4,1 meters. The maximum take-off weight declared by the manufacturer is 5500 kg. In this case, the maximum payload mass is 1350 kg. In this case, the weapons can be placed on eight external suspension points. The declared operating altitude is 30 thousand feet (approximately 9150 meters), the apparatus's service ceiling is 40 feet (approximately 000 meters), and it remains in the air for 12 hours. The drone can fly in fully automatic mode, land and take off on its own. Maximum speed - 200 km / h, cruising speed - 24 km / h.
As previously stated in Ukraine, the new UAV is being developed taking into account the experience of armed conflicts of the 21 century and is intended mainly for the Ukrainian and Turkish armed forces.
Demonstration of the first prototype UAV Akinci took place in the 2018 year.