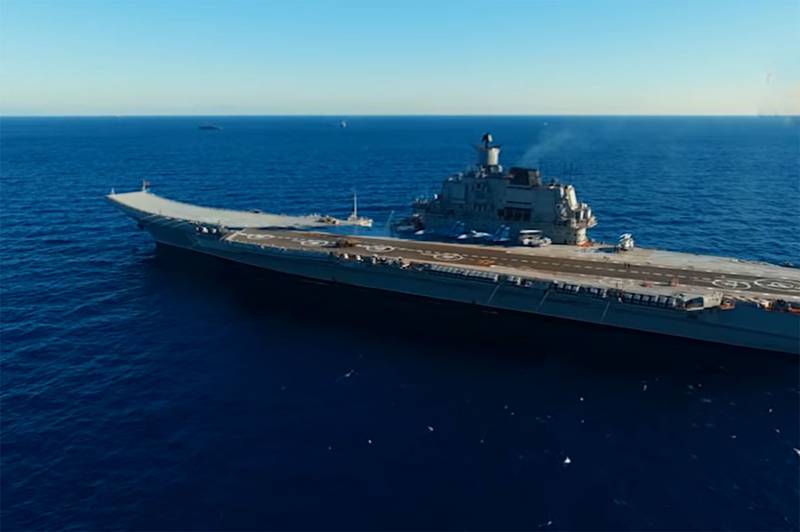 The American press has released material devoted to the process of restoring the only aircraft carrier (aircraft carrier) of the Russian Navy, "Admiral Kuznetsov". Posted by Columnist Thomas Newdick of The Drive.
The article itself bears the following title: "Russia should abandon the unsuccessful (cursed) aircraft carrier and focus on two new landing ships." Apparently, we are talking about helicopter carriers that Russia will build at shipyards in Crimea. According to the plan, the lead helicopter carrier will be transferred
the fleet
in 2027 year.
At the same time, the author tries to explain why he calls the aircraft carrier of the Russian Navy "unsuccessful", "damned".
The author writes that on the basis of the published photographs with "Admiral Kuznetsov" it was concluded that "practically no work was carried out on the ship over the past year." At the same time, there is no reliable data on what the American author says about fresh photos.
From an article by an American reviewer:
At the same time, according to Russian media reports, the two new universal amphibious assault ships that are being built for the country's navy will be larger than previously thought. Ultimately, these new warships will provide the Russian navy with a much more flexible, affordable and useful alternative to the Admiral Kuznetsov, although it is unlikely they will ever use manned aircraft.
Further, it was announced that the abandonment of the aircraft carrier "Admiral Kuznetsov" would allow "freeing up funding" for new projects in the field of the Navy.
It's amazing how the American observer has a "heartache" about the financing of the Russian Navy ... Even less than about the fate of financing the Zumwalt stealth destroyer program, the purpose of which the Pentagon still hasn't decided on.
The American author reminded readers that during the repair and modernization work, the aircraft carrier "Admiral Kuznetsov" was damaged due to the flooding of the floating dock. It was originally planned to complete the modernization in 2021, but now the dates have to be shifted.