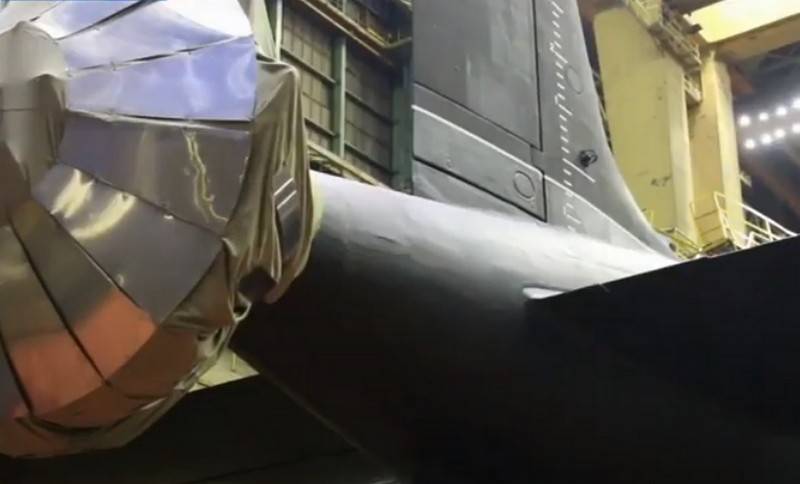 The third carrier of the Poseidon unmanned underwater vehicles, the Ulyanovsk nuclear submarine, will be transferred to the Russian Navy until 2027. Reported by
TASS
citing a source in the shipbuilding industry.
According to the source, the construction of the Ulyanovsk special-purpose nuclear submarine, which will become the third carrier of the Poseidons, is underway at Sevmash. To date, the hull of the submarine has already been formed, and hydraulic tests will start soon. The transfer of Ulyanovsk is planned under the state armament program until 2027. It is emphasized that the nuclear submarine will be transferred along with the means of destruction.
The Ulyanovsk special-purpose nuclear submarine (project 09853) will be transferred to the Navy under the current state armament program until 2027, together with underwater vehicles, which will also complete state tests by that time. Unlike the first two carriers of nuclear super torpedoes, Ulyanovsk will be commissioned for the first time as a single complex together with weapons
- leads
news
source word agency.
The source clarified that the Ulyanovsk nuclear submarine was laid down in 2017 under the 09853 project. The submarine has the same dimensions as the Khabarovsk 09851 nuclear submarine, but will be equipped with more modern systems and mechanisms.
The regular carrier of the Poseidon unmanned underwater vehicles, the Project 09851 Khabarovsk special-purpose nuclear submarine, will be launched in the first half of 2021 and, according to unconfirmed reports, will be able to carry at least six Poseidons on board. At the same time, Project 949A Antey, Project 23A Antey, the multipurpose nuclear submarine Belgorod, specially converted for Poseidons and launched on April 2019, 2021, will be an experimental carrier. It is planned to be commissioned in XNUMX.
Note that earlier it was reported about the plans of the Ministry of Defense to adopt up to 32 underwater unmanned vehicles "Poseidon", in the future, build four underwater carriers for them. According to the plans of the military department, two submarines with drones should be deployed in the North and Pacific
fleets
.