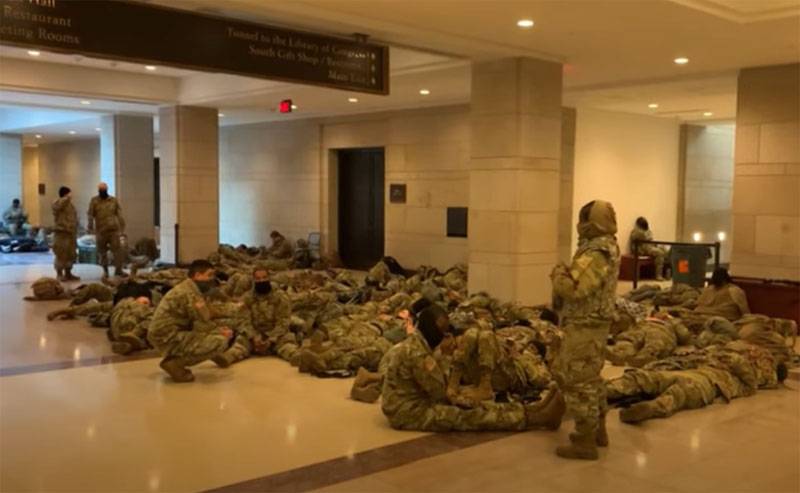 More than 10 soldiers of the National Guard have already been brought to the American capital. By January 20, and on this day, the inauguration ceremony of US President Joseph Biden is planned, the number of National Guards in Washington is planned to be increased to 22 thousand. This is more of the US military presence in Iraq and Afghanistan.
From the building on Capitol Hill, in the meantime, they publish footage in which you can see how the soldiers of the US National Guard settled in the halls and corridors of the parliamentary complex. The servicemen are lying directly on the cold floor. Some have a rifle
weapon
while others do not. Someone is asleep, someone is playing on a smartphone.
At the same time, it became known that all, without exception, servicemen sent to the Capitol on duty were checked for "loyalty." The fact is that representatives of Congress fear that some military personnel may go over to the side of Donald Trump's supporters on the day of the announced "millionth march of militias".
The comments of ordinary Americans about, let's say, the peculiarities of the deployment of the military in the Capitol building are noteworthy. Here are some comments from American social media users and bloggers. Judging by the comments, the Americans are outraged by what they saw.
These guys were thrown on the floor like some kind of vagrant.
I am laying a rug for my dog, are our military men worse than dogs?
If democracy needs to be defended in this way, then the question is: do we really have democracy?
And what, then, is $ 800 billion collected from our taxes to support the troops?