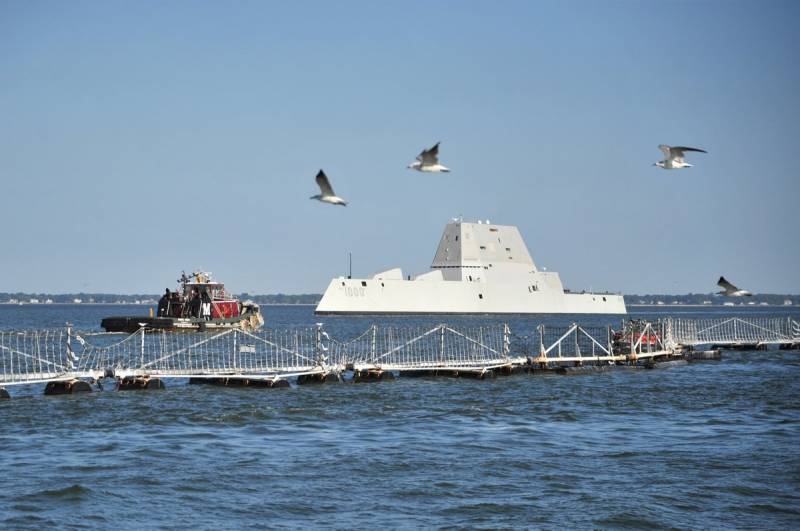 The Pentagon continues to ponder what operations the Zumwalt-class stealth destroyer might be most suitable for.
Recall that after a recent exercise in which USS Zumwalt used only a 30-mm cannon out of all its weapons, the United States criticized the multi-billion dollar project, calling the destroyer itself an "expensive artillery boat."
Now the command of the US Navy announced that they decided to take measures to integrate the stealth destroyers of the mentioned class with surface unmanned ships. The US Navy intends to conduct exercises in such an integrated format in the spring of 2021.
The American press notes that the destroyer USS Zumwalt was commissioned in October 2016, but still operates in an experimental-operational format as part of the naval forces and, it turns out, has not even begun preparations for a full-fledged combat deployment. The reason for this is precisely the fact that the Pentagon has not decided on the destination of the destroyer in the Navy.
In connection with the statements of the representatives of the command of the American naval forces, it was suggested that an unmanned escort group would be formed for Zamvolt.
Vice Admiral Roy Kitchener:
We are exploring how to involve Zamvolt in a complex combat mission to integrate with unmanned vehicles. Recent tests of the destroyer were aimed at figuring out how it will behave in difficult weather conditions. We look forward to his demonstration of the capabilities of network-centric control of a group of surface ships, including unmanned ones.
According to the latest information, the USS Zumwalt is planned to be tested in conjunction with the USV Sea Hunter, an autonomous surface unmanned vehicle. This trimaran-format naval drone has a displacement of about 150 tons and a top speed of 27 knots. Its tests were completed in the summer of 2016. In 2021, the US Navy plans to adopt a second such ship.
At the same time, Vice Admiral Kitchener, actually confirming the fact of being in difficulty and in search of the use of Zamvolt, added that integration with surface unmanned ships for the stealth destroyer "may become a temporary measure."
American Vice Admiral:
In the future, we still plan to use the USS Zumwalt as a missile strike ship with hypersonic weapons.