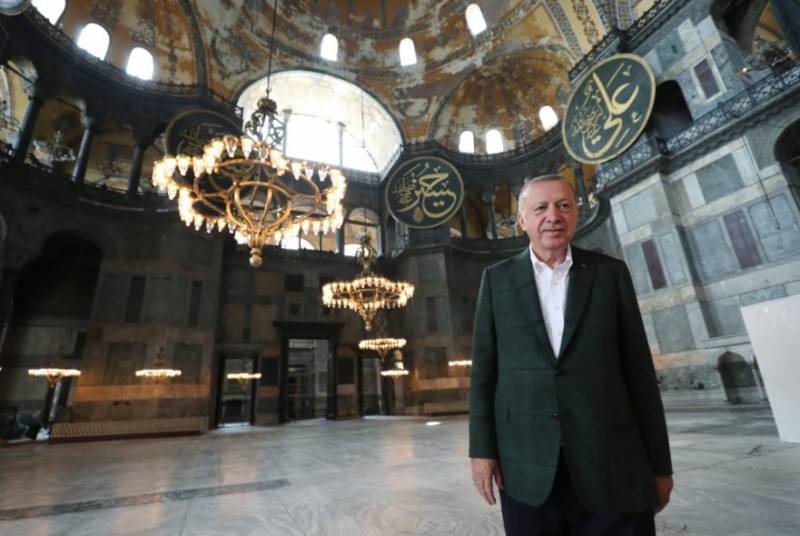 Erdogan has never hidden his desire to include Turkey in the elite club of nuclear powers. The latest information on his intention to obtain nuclear weapons with the help of Pakistan
weapon
did not go unnoticed in many countries, including Russia.
Writes about this Greek edition "Pentapostagma". The Greek press announced "Moscow's concern over Turkey's nuclear ambitions - President Erdogan's desire to acquire nuclear weapons."
Two years ago, the Turkish president said that the attempts of the nuclear powers to prevent Ankara from receiving atomic weapons are unacceptable. Actually, no one really interferes with her in the implementation of these plans. Turkey has also invested heavily in long-range missile technology over the past decade.
Such activity cannot but cause alarm, especially against the background of the fact that Turkey, with the help of military and economic levers, is increasing its influence on neighboring states and on the Middle East region as a whole.
Many defense experts, the Greek author argues, believe that in the end Erdogan will not be allowed to acquire nuclear weapons, as in this case he will become an even greater threat to world security than North Korean leader Kim Jong-un.
The concern of Russia and other countries is caused by information that Turkish President Erdogan allegedly personally asked the Pakistani military to provide technologies for the production of nuclear weapons and received a positive response to this. In particular, this was reported by the Indian edition Zee News India. Turkey itself does not comment on these publications and claims. At the same time, official Ankara did not confirm contacts with the Pakistani Defense Ministry regarding the transfer of nuclear technologies. If such a transfer takes place, then both Turkey and Pakistan may fall under sanctions from the UN Security Council for activities that undermine the memorandum on the nonproliferation of nuclear weapons.