The Israeli
aviation
struck a new massive strike on the territory of Syria. As reported
news
SANA agency, objects located near the border with Iraq in the province of Deir Ez-Zor were attacked.
According to local media reports, the Syrian air defense tried to repel the Israeli attack, there is no information about the intercepted missiles yet. Objects in the area of ​​the city of Al-Bukamal, in Ayyash, Sayk and Al-Mayadin were hit. In total, it is reported that at least 18 airstrikes were inflicted on targets of the pro-Iranian forces and Khikhzbollah.
According to preliminary reports, at least five Syrian soldiers and 11 militants from pro-Iranian groups were killed during the raid.
In Israel, they traditionally do not comment on the raid.
Meanwhile, Arab news sources claim that Russian Aerospace Forces continue to target jihadist positions in Latakia province. Russian planes strike in the area of ​​the town of Kobani. For bombing, not only conventional bombs are used, but also concrete-piercing ammunition. Earlier, the Aerospace Forces struck in the province of Aleppo, where the target of the attack was oil tankers in the area of ​​the settlement. the city of Tarhin, which is located near the city of Al-Bab. In the province of Idlib, Su-24 VKS were seen striking jihadist positions.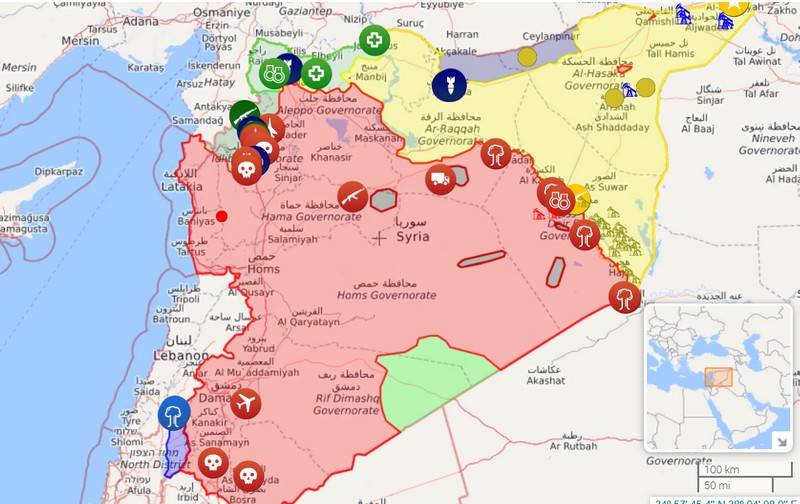 In turn, the Kurdish media write that the authorities of the province of Malikia in northeastern Syria, which is under the control of the Kurds, did not allow the Russian military to create a new base in the province. The reason for the refusal was allegedly the fears of the Kurdish population that Russia would seize the oil fields, which are guarded by the Kurds.