Today, the newly elected President of Moldova is making his first foreign visit - to visit Vladimir Zelensky. The President of Ukraine congratulated Maia Sanda not only "in person", but also via Twitter. According to him, this visit "is the beginning of new relations between Ukraine and the Republic of Moldova."
Volodymyr Zelenskyy said that Ukraine and Moldova "are united by common values ​​and positions, including the common European agenda."
Maia Sandu said that Moldova, like Ukraine, "is taking measures for full European integration", and added that it is extremely important for her to support Kiev's "territorial integrity of Moldova."
Sandu:
In turn, we support the territorial integrity of Ukraine.
Zelensky, during a meeting with a colleague from Moldova, said that "a course should be noted to strengthen interaction with partners in Southeast Europe and the Black Sea region."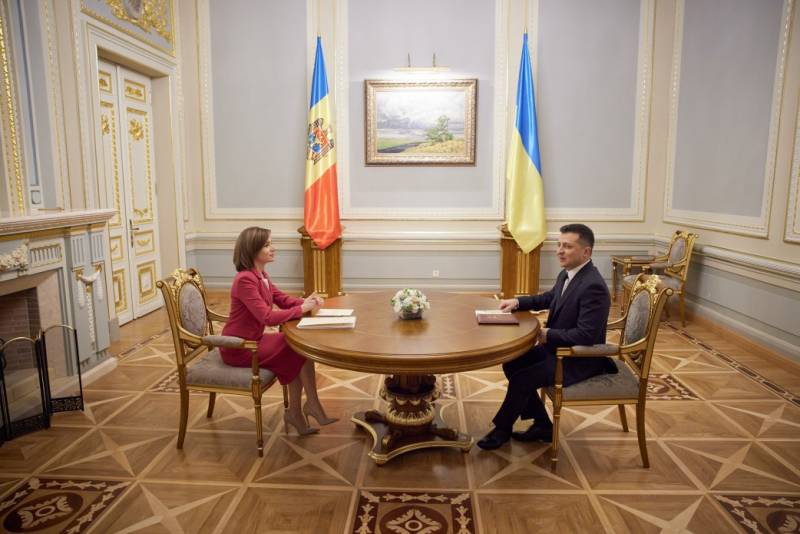 Meeting without masks
President of Ukraine:
In this context, we reaffirm our interest in becoming part of the Trimorie initiative.
Sandu also stated that Moldova would like to become a part of Trimoria.
For reference: "Trimorie" (also known as the "Three Seas" initiative) is an association of European states with access to such seas as the Baltic, Black and Adriatic. Neither Ukraine nor Moldova is yet part of this union.
Earlier in Ukraine they announced that they would support the initiative of Maya Sandu to "withdraw Russian troops from the banks of the Dniester." They also added in Kiev that they are ready to provide a corridor for the withdrawal of the Russian military, however, later they began to talk less about this idea. The reason was the position of Ukrainian nationalist conspiracy theorists, who said that "the Russian military can take advantage of the situation and land on the territory of Ukraine when withdrawing from Transnistria."