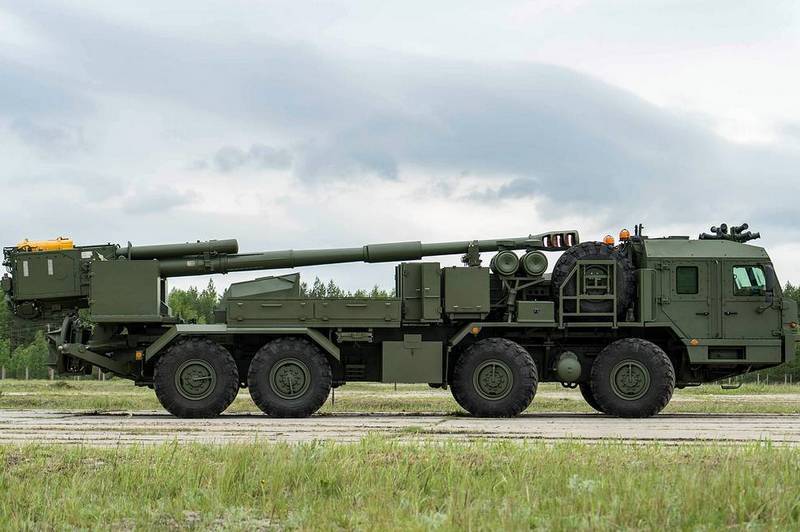 Tests of the promising 2C43 Malva self-propelled wheeled howitzer will begin in the spring or summer of 2021.
This is reported
"News"
with reference to the Ministry of Defense.
According to the publication, the newest self-propelled gun had to pass factory tests by the end of 2020 with firing, currently the ACS is undergoing a stage of correcting the shortcomings discovered during the tests. After the stage of fine-tuning "Malva" will start testing.
ACS 2S43 "Malva" is being developed by the Central Research Institute "Burevestnik" as part of the ROC "Sketch". For the first time, the howitzer was presented in 2019 behind closed doors, details of the development are not provided.
It is known that the 152-mm 2A64 cannon used in the Msta-S self-propelled guns is used as a firing component at Malva. It is possible to install an upgraded version of this gun, but the data is missing due to the secrecy of the development. The transportable ammunition of the howitzer is 30 rounds, the mass of the self-propelled guns is 32 tons.
The chassis of the Malva is the BAZ-6010-027 all-terrain vehicle with an 8x8 wheel arrangement produced by the Bryansk Automobile Plant, and not the Belarusian MZKT tractor, traditionally used in the Russian army as a platform for placing various weapons. Other details have not yet been disclosed.
As previously reported, in the framework of the R&D project "Sketch" a whole flower garden is being developed, which, in addition to "Mallow", includes 120-mm Flook SAO on the Ural-VV chassis, 120 mm Arctic Magnolia self-propelled guns on the chassis of a two-link tractor DT-30MP and 82-mm mortar "Drok" on the chassis "Typhoon-VDV".