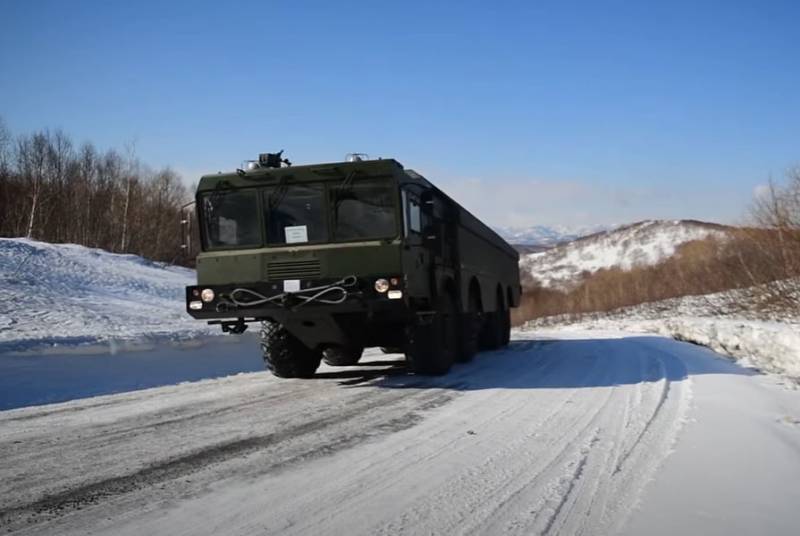 The Ministry of Defense of the Russian Federation showed footage of the Bastion DBK (coastal missile systems). We are talking about the complexes that are part of the Pacific
fleet
Russia and equipped with anti-ship missiles.
For the calculations of the DBK "Bastion", a field exit was organized. Including on public roads, the complexes were transferred to the training ground, where it is planned to practice a number of combat training operations. In particular, the tasks for practicing bringing the BRK "Bastion" to combat readiness with deployment in a given square of terrain are outlined.
Before arriving at the site of the firing, the Pacific Fleet's missile crews worked out the organization of security in the marching convoy, as well as overcoming areas of terrain with conditional contamination. Crews in these areas operated with the use of special protective equipment - both individual and collective.
Particular attention was paid to the issues of air defense (air defense) in the course of movement of missile systems.
Coastal missile systems (DBK) "Bastion" have been in service since 2010. They provide effective defeat of various types of surface targets, including ships from the AUG (aircraft carrier strike groups).
Earlier on the Web there was information about plans for the possible re-equipment of the Bastion launchers with hypersonic missiles. But there have been no official reports and comments on this matter yet.