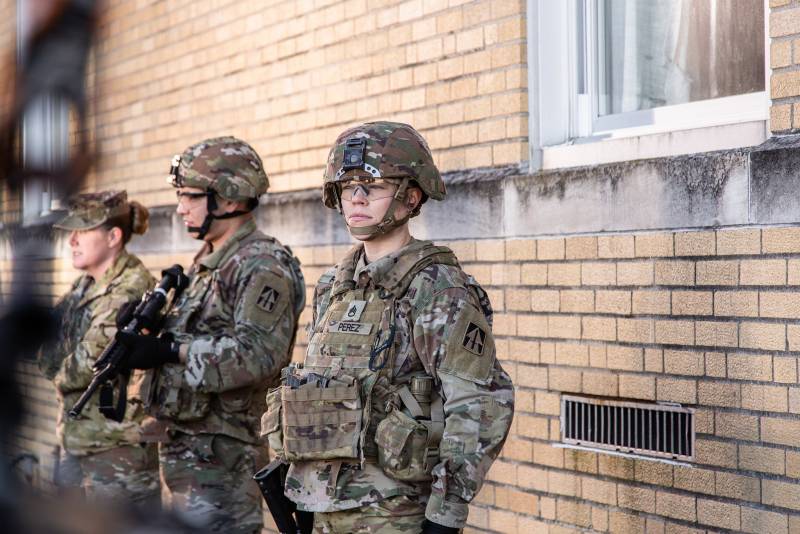 The current American President Donald Trump decided to demonstrate his readiness to peacefully transfer power to his successor, Joseph Biden. Trump, who has lost the ability to promptly communicate his intentions and decisions through social networks, through his administration disseminated a message that he is sending "federal aid" to Washington against the background of the emergency regime introduced.
We are talking about units of the National Guard, which are already in positions in the District of Columbia. The largest concentration of American National Guards is observed in the area of ​​government buildings, including the building on Capitol Hill.
In a message from the Trump administration, it says the president has taken the necessary steps in the difficult circumstances surrounding the inauguration.
This announcement came against the backdrop of the emergence of a draft impeachment resolution in the United States. It should be noted that according to American laws, impeachment can be announced after the end of the presidential term. If impeachment is declared, Trump will not be able to stand as a candidate in the new elections, and criminal cases may be initiated against him.
Opponents of Donald Trump, even in the measures to provide federal assistance to ensure security in Washington, have found a background. Thus, it was announced that Trump was suspicious of the National Guard units loyal to him "may unite" with those who will arrive in Washington by January 20 for the announced "March of a Million Militias". This is how the event is called by its future participants who are protesting against election fraud.
He can prevent the inauguration with the help of loyal fighters of the National Guard.
In the meantime, a new definition has appeared for Trump - "the belligerent lame duck." It is noted that not a single US president, finishing his term after losing the election, has not caused as much trouble with security, "as Trump does." Despite the fact that Trump has already tried several times to disown the events with the storming of the Capitol, the rhetoric in relation to him does not change.
It should be added that from the future US administration, Russia received an invitation to participate in the inauguration of the 46th president. Russia will be represented at the events in Washington by Ambassador Anatoly Antonov.
On the eve of the 60 Minutes program on the Russia 1 channel, its participants, drawing parallels between the events in the United States and the events of 7 years ago in Kiev, asked the question: "How would Washington react if a Russian ambassador appeared at the Capitol during the action? and would express words of support to the protesters and "hand out buns?"