Turkish information sources write that ASELSAN (Turkey) has modernized the Soviet
aviation
ammunition. In the material of Turkish observers, it is noted that this kind of modernization has significantly expanded the combat capabilities of the air forces of Azerbaijan, which was implemented during the battles in Nagorno-Karabakh.
What kind of modernization are we talking about?
The Turkish press reports that in 2019 ASELSAN integrated the LGK laser guidance complex with the Soviet-designed OFAB-250 high-explosive fragmentation bomb. The aircraft bomb updated in this way received the LGK-OFAB marking and was tested from the Su-25 attack aircraft of the Azerbaijan Air Force.
It is alleged that bombs with a laser targeting system from the aforementioned Turkish company were used by Azerbaijani aviation during the autumn battles in Karabakh. At the same time, it is noted that the Su-25 with updated bomb armament operated in groups with Turkish-made Bayraktar reconnaissance drones.
The Turkish LGK complex allows the OFAB-250 aerial bomb to hit both stationary and dynamic targets. In this case, the maximum target speed is 40 km / h. The maximum effective height of application is 12 thousand meters. Target designation is carried out after the bomb is dropped.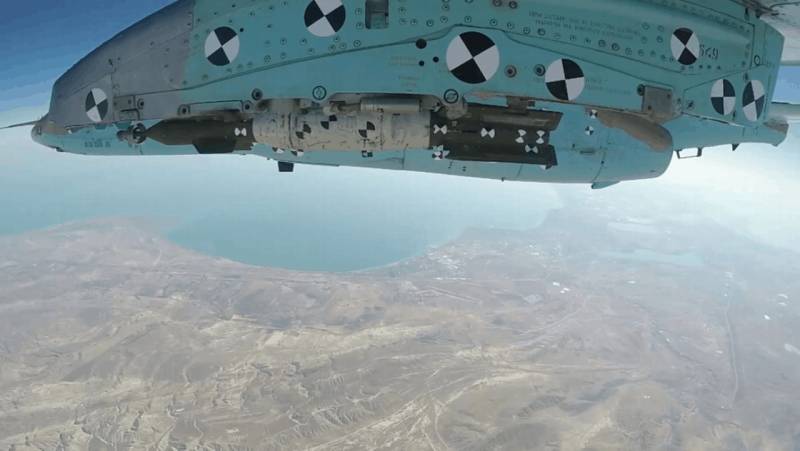 Test of LGK-OFAB by the Azerbaijani Air Force. Photo M5
Earlier, the Turkish company developed a laser targeting system for the Mk.82 bomb. This is an American bomb developed in the 1950s. The final kit was designated LGK-82.
LGK, in addition to the guidance head, includes a bombs tail drive.
The Azerbaijani side has not provided comments on the modernization of OFAB-250 with the help of a Turkish company.