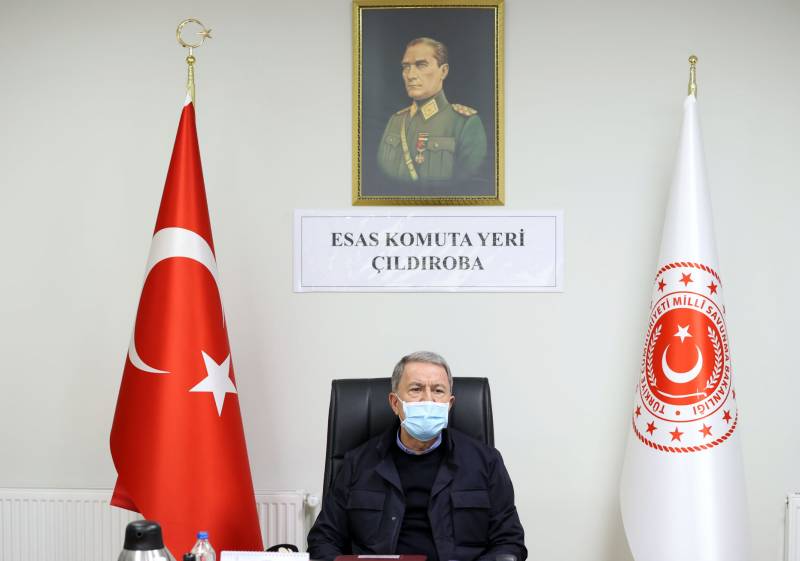 The Turkish Defense Minister made a statement during the memorial events dedicated to the next anniversary of the end of the Sarikamysh battle (operation). This is an offensive operation of the Ottoman army against the Russian troops in December 1914 - January 1915. As a result of the fighting, the 3rd Turkish army was defeated, which ultimately made it possible to disrupt the Ottoman plans to seize the Transcaucasus during the First World War. The plans of the then Ottoman elites to unleash an uprising of Muslim peoples and communities in the Russian Empire were also thwarted.
Despite the defeat in that operation, in Turkey it is remembered, and often as "a failure for the next step forward."
According to the current Minister of Defense of Turkey Hulusi Akar, "both then and today the Turkish army stood and stands in the defense of the oppressed." Hulusi Akar:
The memory of the Turkish soldiers who laid down their heads in the Battle of Sarikamish will forever remain in our hearts.
The Greek press paid particular attention to this statement. Columnist Giorgis Matsakos writes that "Ankara is trying to position itself as the savior of Muslims," ​​noting the words of the Turkish minister about the continuation of actions in Libya.
It is noted that today Turkey is trying to justify the actual invasion of the Caucasus during the First World War by "protecting the oppressed".
Hulusi Acar:
Our forces in Libya are on the side of the oppressed Libyan people, and we will continue to act against terrorists.
At the same time, by "terrorists" Akar understands the units of the Libyan National Army, commanded by Marshal Haftar.
The head of the Turkish Ministry of Defense in his speech also said that today the Turkish armed forces "are making a contribution to ensuring security from Azerbaijan and Afghanistan to Kosovo, Libya and Somalia."
The Greek observer, commenting on the reference to the Sarikamysh operation, recalled how it ended for Turkey:
The Turkish campaign ended tragically for the Ottomans: tens of thousands of soldiers were killed, thousands froze in the Caucasus mountains, thousands more were captured and perished in Siberia.