Twenty five again?
Ten days before the already imminent inauguration of President Joseph Biden, the world has flown
news
- Donald Trump may be prematurely removed from power. In this case, the powers of the president will be transferred to Vice President Mike Pence.
More recently, this could well have become a sensation. Today you can expect anything from Americans. The fact that the amateur Maidan failed, in fact, changes little - there is a split in the country, and the Republicans disappointed in the storming of the Capitol still have many disappointments ahead.
The accession of Joseph Biden (even with solid support from legislators), if it will make America the same as under Obama, it will most likely not for long. And it's not about Trump and not even about the pandemic, although all the fuss with her and Biden will have to turn off.
However, why is it necessary for Biden? Behind him is quite a Obama lady, Kamala Harris, who will not be difficult to nominate to the first post in the country. But this, of course, in case the very, very old Joe does not pull.
But for a start, it would be nice to test the technology of the notorious 25th amendment on Trump and Pence. Moreover, decades have passed since the last accessions of vice-presidents (Democrat Lyndon Johnson and Republican Gerald Ford).
And the world has changed, and in terms of information, it has changed radically. And then the 25th amendment was not required. Everything was done decorously and unhurriedly. Now on the agenda is the very case with an idea that, having taken possession of the masses, becomes a material force (according to Marx).
Intermediate Pence
Let's remember - four years ago the Republican party had such serious problems that it simply had to recognize the non-systemic Donald Trump as the leader. But he was also thoroughly bent so that he would not stuff the Washington administration with his business subordinates.
I had to confine myself to relatives and employees of the campaign headquarters. It is no coincidence that the new subordinates of Trump-President over the four years of his rule have had as many resignations as few of the owners of the White House.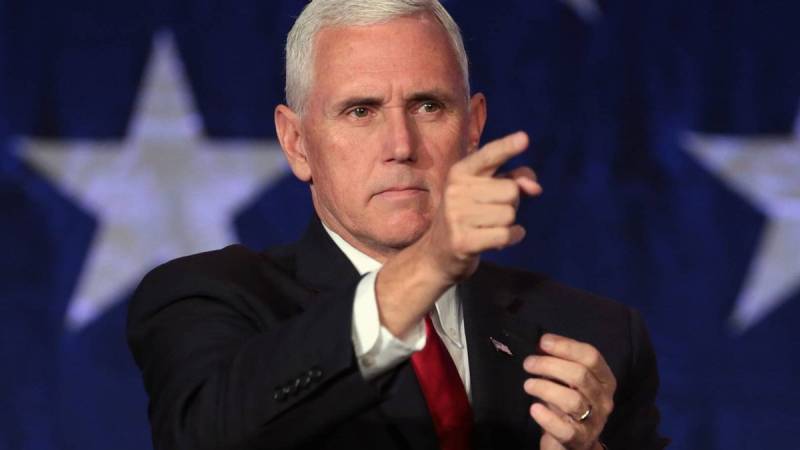 And this was not forgiven him. Michael Pence was one of the few who stayed under Trump for the entire term of his rule. And it was believed that the president trusts his "vice" absolutely. Apparently in vain.
Michael Pence, who is now only 61, is also not a very systemic politician, although he served as both a Congressman and Governor of Indiana. However, the son of a participant in the Korean War (the owner of a small chain of gas stations, German by origin) and an Irish Catholic, found himself in politics almost by accident.
Having received an art degree, he decided to become a lawyer just for the sake of earning money and by the age of 27 he graduated from Indiana University Law School. In the same 80s, Pence decided on his political and religious preferences - he became a convinced democrat and evangelist, much to the horror of his mother.
Michael Pence voted for Jimmy Carter and admired John F. Kennedy and Martin Luther King. However, working as a lawyer, in just a couple of years he was forged into a Republican and it was from the "elephants" party that in 1988 he ran for Congress.
Republican choice
Michael Pence lost to Democrat Philip Sharpe, to whom he later lost again. And he managed to get into the House of Representatives of the Congress only in 2000. 41 years old - it is not too late and not too early to start a big political career.
Already in 2006, Michael Pence claimed the leadership of the Republican Party, but that was the time of the Bushes - senior and junior. After an 8-year democratic pause with President Obama, the experienced congressman, who managed to become the master of troubled Indiana, could not resist the proposal of the billionaire Trump to become his "number two".
Pence didn't even go to a second term in Indiana. And today, many believe that the Republican Party, when nominating a contender for the White House, in vain put its heavyweights, like John McCain, against Trump.
Many experts are sure that even then she needed Pence, who would defeat any Democrat today. However, Pence, as we can see, is a master at changing course. Four years later
"Cordial consent"
(this is from the Washington Post) he is actually throwing Trump.
The 25th Amendment does not take too long, and Michael Pence may even have time to settle in the White House. But new elections for him can happen now only in another four years. And who knows -
"Others will come, replacing comfort" ...
Who is to blame?
Until then, America faced eternal Russian questions.
Although the answer to the first of them, she seems to have found. Joe Biden, who has not yet survived the inauguration, is in a hurry with such passages to his electorate:
"I am sure that if a group of black people had protested yesterday, they would have been treated very, very differently, not at all like the crowd of thugs who stormed the Capitol. And this is unacceptable, completely unacceptable. "
And in something echoes the president-elect Professor Clifford Stott, an expert on the psychology of gang violence, referring to social networks and online, where
"There were frequent comments supporting Trump and calling for reprisals against his opponents."
And they say everywhere that
"This crowd had a very clear goal. They were driven by the idea that their actions were legal. They had the impression that the president - as their commander-in-chief - had authorized their actions. "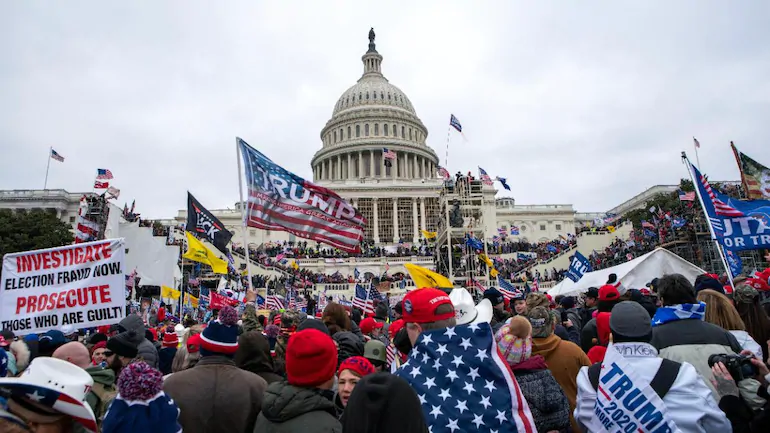 Photo: AP photo
At the same time, for some reason, everyone unanimously forgot that then Trump would have to suppress his own. It is no coincidence that now literally everywhere the idea is being actively promoted that it was
"Trump police" and "Trump siloviki".
However, all the conditions for a breakthrough to Congress existed from the beginning - it would be easy for almost anyone to get there. Like the English Parliament, or rather like the airport before the pandemic. Frame, passport - welcome!
And no special security measures, and negligibly few guys in body armor.
"Not the White House"
- any self-respecting US citizen would tell you to this. So they came.
It was just that someone really needed it.
So what to do?
But after all, only the lazy one did not repeat about the threat of a split and civil war in the United States - (
Burning States of America: A Premonition of Civil War
).
And the American Maidan did not sneak up unnoticed. And if it was financed at least in the same way as in Kiev or even in Belarus, it might have worked.
However, there was and is not in the United States once such a party as in Russia in 1917. And after four years of presidency, Trump himself already has the wrong billions.
And colleagues from the US business environment, for whom, in fact, he did almost more than one could hope for, the 45th president was simply thrown. Like Pence.
Trump will leave after all. And now he is unlikely to be pardoned. Not legally - real. The persecution began long before the elections and until January 6, 2021. But
"Trumpism"
- this version of either new Marxism, or reanimated Keynesianism, is not going anywhere.
Not the United States, but the entire civilized world is splitting more and more. For those who want and are ready to work (by whom and how it does not matter), and those who defend and will (through all media, social networks and online) defend their "democratic" (not by the name of the party) values.
Values ​​that boil down to a kind of tolerant parasitism in all its manifestations. Now classes will be different, and the class struggle will be different. However, there is again no escape from the classic inconsistency of production relations with the level of development of the productive forces.
PS
In the end, I will allow myself something like an inappropriate joke:
What do you think, what if Pence's last name was not "Pence", but "Dollar?"