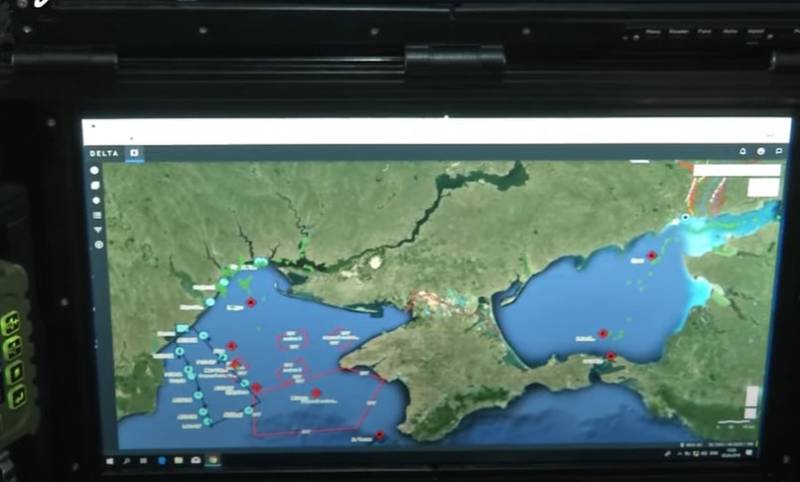 The Commander of the Ukrainian Navy, Rear Admiral Oleksiy Neizhpapa, called "an important victory for Ukraine and the naval forces" in 2020. According to him, such is the adoption by the Navy of the coastal missile system "Neptune", which is designed to destroy ships, as well as ground targets. At the same time, in Ukraine they do not like to remember that the DBK, which is called "Ukrainian development," is actually based on the Soviet Kh-35 missile.
During an interview with Neizhpapa on a channel affiliated with the Ministry of Defense of Ukraine, potential targets for the Neptune DBK were shown. In particular, it is indicated that the Neptune complex is targeting the water area west of the Crimean coast from the facilities of the Armed Forces of the Armed Forces in Odessa, and the Azov water area from the facilities of the Armed Forces of Ukraine in the Berdyansk region.
It is important to note that the Ukrainian Navy does not yet have a sufficient number of the aforementioned coastal missile systems that could "cover" both the Black Sea and Azov waters. And the command of the armed forces of Ukraine calls these areas "areas potentially posing a threat to security."
According to the commander of the Ukrainian Navy, the first battalion of the Neptune DBK will appear in the naval forces in 2021.
Neizhpapa:
We are starting to form a division as a missile division, on the basis of the Neptune missile system.
Against this background, materials appeared in the Ukrainian press, which reported that, first of all, the Neptune missile launcher, which is expected in the troops in 2021, will cover the military facility in Ochakov.
It should be noted that earlier information was received about American activity in this particular port. Experts assumed that the United States was trying to create a military base or a logistics center in Ochakov "to replace" those they were going to deploy in Crimea. As you know, the US plans for Crimea were not destined to come true because of the will of the Crimeans and the subsequent reunification of the peninsula with Russia. Now the American side is trying to "catch up" in the same Ochakovo.