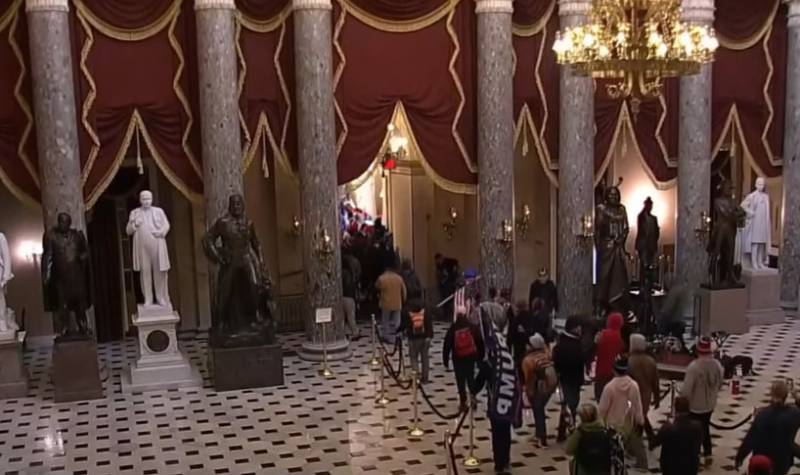 The world press continues to actively comment on the events that took place on January 6 in Washington, when activists stormed the Capitol building.
Today it became known that the number of victims of the Washington events has increased to five.
The situation is commented by Ursula Passus, a columnist from Brazil. According to her, what she saw from
news
summary, reminded her of the famous scene from the film by Sergei Eisenstein. This is a feature film in which footage of the capture of the Winter Palace was shown.
Ursula Passus:
The scenes of that Soviet film, which shows the capture of the Winter Palace in Russia, ironically resemble what we all saw in the United States.
An observer from Brazil notes that in the United States "the specter of a socialist revolution has appeared," although what happened in the American capital is difficult to attribute to a manifestation of socialism.
In the German newspaper Die Zeit, journalist Rike Havertz writes that, despite Donald Trump's statements about his readiness to peacefully transfer power to Joe Biden, he still has not congratulated him on his election victory.
From the article:
And the Republicans had to admit that they were not in support of their president, but in support of democracy.
The statement was criticized by German readers, noting that democracy cannot be based on curfews, vote-rigging and a state of emergency.
However, Havertz notes that the Republican Party is unlikely to be able to write Trump off. The fact is that Trump, even after losing the election, received more votes than any other Republican candidate in the entire
history
voting in the USA.
Comments from German readers:
Not everyone can claim to have destroyed one of the two main parties in the United States. Such a "feat" could only be accomplished by someone as special as Trump.
Now there will have to somehow influence the out of control crowd.