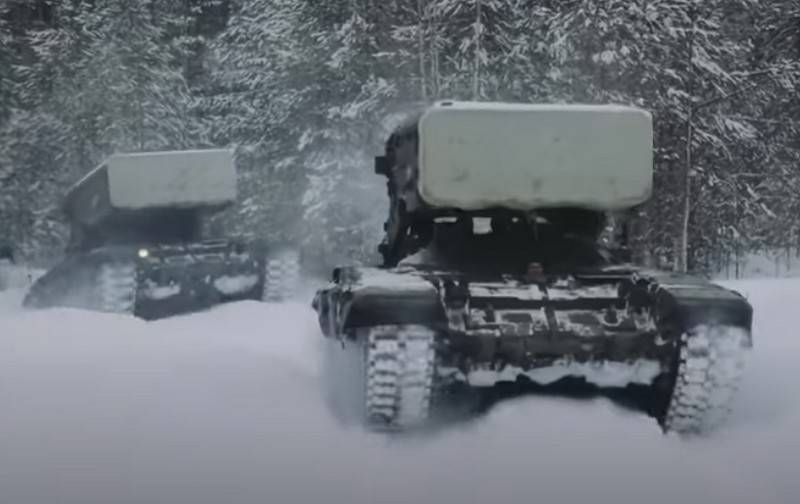 The Russian Ministry of Defense has begun modernizing the TOS-1A "Solntsepek" heavy flamethrower system. The work is carried out by enterprises of the military-industrial complex as part of the implementation of the state defense order. This was reported by the press service of the military department.
As noted in the Ministry of Defense, the modernization will increase the range and accuracy of fire, the area of ​​destruction and reduce the consumption of ammunition. In addition, the upgraded vehicles will have increased protection against anti-tank weapons. Details of the work carried out are not provided.
Industrial enterprises, within the framework of serial production, are carrying out work on the modernization of BM-1 combat vehicles of the TOS-1A heavy flamethrower system
- said in a statement.
The fact that the Ministry of Defense intends to modernize TOS-1 "Buratino" and TOS-1A "Solntsepek" was reported in early November last year.
As explained in the military department, the modernization was required due to the change in tasks for the TOS and the growing range. The modernized vehicles will receive modern digital communication facilities, as well as equipment for a closed data transmission segment, which will allow them to be integrated into automatic control systems (ACS) of the tactical level. In addition, long-range ammunition from TOS-1 (Tosochka) will be adapted for TOS-1 and TOS-2A, thereby increasing the range of TOS to 15 km instead of the currently available 6 km.
At present, the RChBZ is armed with about a hundred heavy flamethrower systems of two modifications: TOS-1 "Buratino" based on
tank
T-72 and improved TOS-1A "Solntsepek" on the T-90 chassis. All existing vehicles will be upgraded.