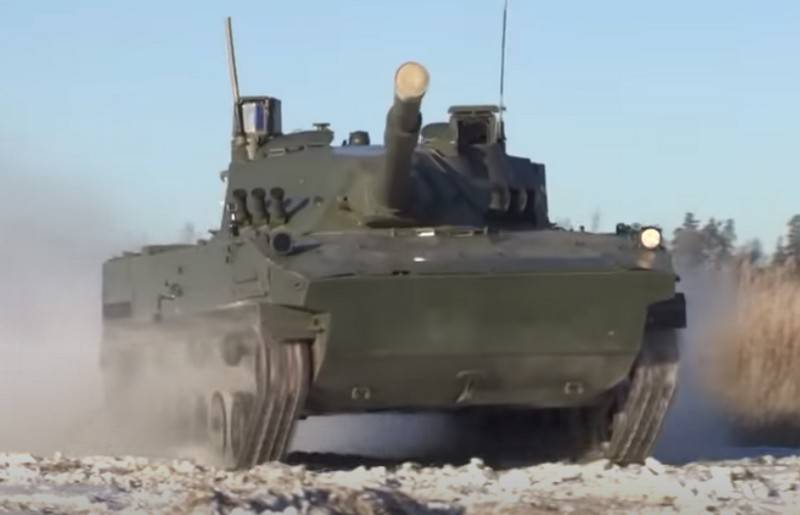 Light amphibious tank "Sprut-SDM1" will be adopted by the Airborne Forces (Airborne Forces) in 2023. Reported by
RIA News
citing a source close to the headquarters of the Airborne Forces.
According to the interlocutor of the news agency, the adoption and serial production of the self-propelled anti-tank gun (light tank) "Sprut-SDM1" is scheduled for early 2023.
State tests of the newest Sprut-SDM1 airmobile anti-tank gun are scheduled to be completed by the end of 2022. In 2023, the car should be put into service, at the same time its serial deliveries to the Airborne Forces will begin
- said the source publication.
According to him, "Sprut-SDM1", which has a 125-mm gun capable of using guided missiles, a new weapons control system and an automatic target tracking machine, is at the level of the main combat
tanks
.
In fact, the Airborne Forces will receive an airborne amphibious tank, unique in terms of combat capabilities.
- he added.
State tests of the Sprut-SDM1 light amphibious tank, intended for the Airborne Forces, began in August 2020, and will take a year and a half for them. According to the results of state tests, design documentation will be approved with the assignment of the letter "O1", which will allow the start of serial production. Earlier it was reported that the Ministry of Defense had already made a decision to adopt the Sprut-SDM1 into service, and the training of tank commanders for the Airborne Forces had already begun.
The Russian combat vehicle Sprut-SDM1 "is armed with a 125-mm cannon, a 7,62-mm machine gun paired with it and a 7,62-mm machine gun mounted on a remote-controlled module. destroying enemy strongpoints and defensive structures, conducting military reconnaissance and outposts.