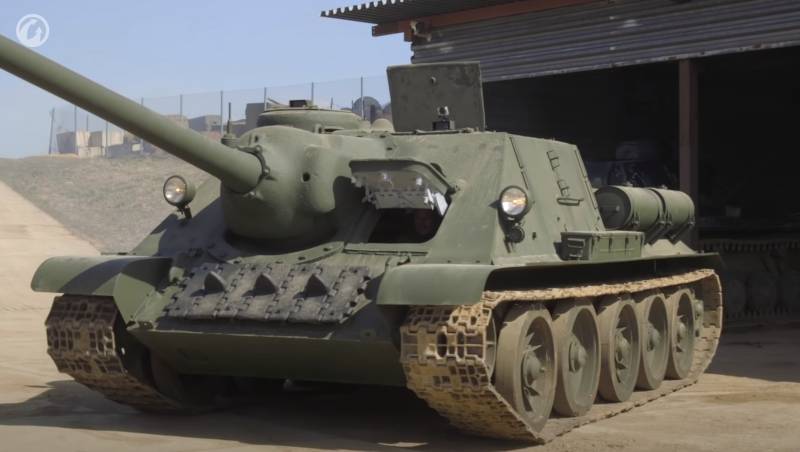 We continue to talk about the cars restored by the Stalin Line historical and cultural complex in cooperation with Wargaming as part of the Remember Everything campaign. We have already talked about the restoration of the Soviet
tank
T-34, and today we present you the film "SU-100. Revival of a Legend "about the restoration of the legendary Soviet self-propelled gun.
The film tells how the Stalin Line restorers recreate the SU-100 self-propelled artillery mount from a pile of scrap metal, suitable only for remelting. The Wargaming team did not leave the restorers and, step by step, filmed how the specialists are returning the car to its original appearance. To date, the film has received over 1,3 million views on the official World of Tanks channel and has received many positive reviews.
Before the restoration began, the car was stored at a military training ground - without an engine, without a gearbox, half buried in earth. In the fall of 2014, the self-propelled gun was transported to the "Stalin Line" and began to restore. The hull was cleared of soil, the chassis and the gun were dismantled, sorted out and brought into working order. After that, they received an engine from the T-34 from the military, found a gearbox, radiators, control levers with an onboard clutch drive and various small parts: pistol ports, periscopes, and so on.
To maximize compliance
historical
reliability, rollers and headlights from the war times were installed on the self-propelled gun, and all parts were painted in the regular colors. As a result of the work, the entire car was brought to its original appearance both outside and inside - from the engine and transmission to the fuel tanks and the driver's hatch.