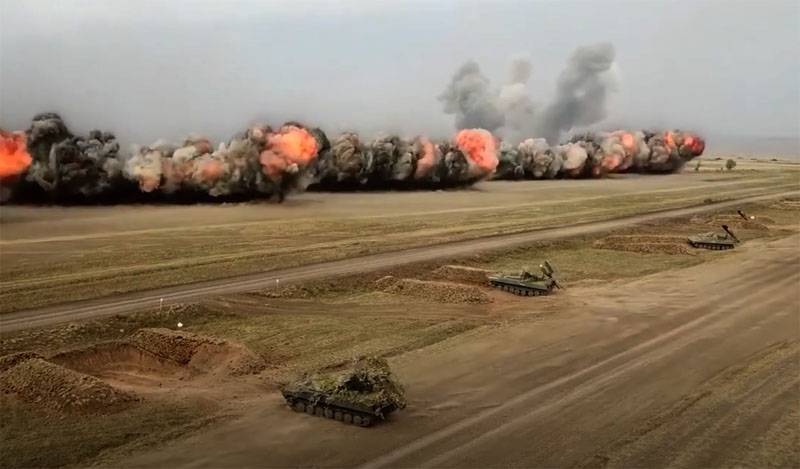 The Ukrainian press has decided to discuss the planned military exercises "West-2021" in Russia. The material with attempts to analyze future maneuvers was presented by the Ukrainian observer Andrey Katkov.
The command-staff exercises "West-2021" are to be held in September at Russian and Belarusian training grounds. At the same time, the Ukrainian author decided to enhance the "media effect", stating that during the exercises "Russia will work out a modern blitzkrieg near the borders of Ukraine and NATO." At the same time, the NATO exercises, which are increasingly taking place near the borders of the Russian Federation and the Republic of Belarus, including exercises with the involvement of the Ukrainian military, are not called "blitzkrieg development" in Ukraine for some reason.
From more than engaged material by the Ukrainian author:
Russian large-scale exercises always become the epicenter of tension, especially when they take place near the territory of Ukraine and NATO member countries. The joint Russian-Belarusian exercises "West-2021" will be no exception.
In Ukraine, concern is expressed in connection with the fact that during the command-control exercise "West-2021" plans to pay special attention to "the rapid transition from one type of warfare to another - with the creation of a complex dynamic situation." Attention is also drawn to the fact that it is planned to practice the actions of subunits in isolation from the main forces, to conduct deep raids and bypass enemy forces.
And already traditionally, attention was paid to the so-called Suwalki corridor. To "remind about the threat", the author, once again for the Ukrainian press, writes that "Russia will view the KSHU West 2021 as a rehearsal of possible actions not only against Ukraine, but also against the Baltic States and Poland." It is worth noting that statements of this kind have become familiar to Russia's western neighbors, who are inclined to present practically any maneuvers of the RF Armed Forces in order to please certain interests as "an obvious threat to the Western peace and democracy."
We will remind that earlier in the Ukrainian press there was a material about allegedly considering by Russia the option of "carrying out a march from Crimea to the Kherson region to gain control over the dam of the North Crimean Canal."