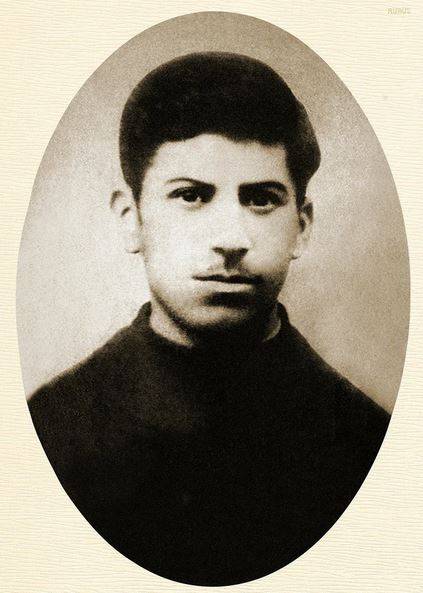 Much has been written about Stalin's controversial personality. His personality was viewed from different points of view. At the same time, very little attention has been paid to its formation.
How and how were his character traits formed? Where does his thirst for reading books come from? And knowledge in the field of natural sciences? A reverent attitude towards literature and art? Toughness towards people, including your associates? Aversion to luxury and a desire for a Spartan lifestyle?
Where did the son of a shoemaker and a laundress have knowledge that far exceeded his social status? How could someone from the lowest social stratum become the head of state? And why did the leaders of other states (such as Churchill and Roosevelt), who noted Stalin's keen mind and deep knowledge, treated him with great respect? And his comrades-in-arms and enemies were surprised by his incredible willpower, determination and his constant desire to raise his intellectual level?
Family and parents
It is well known that a person's personality develops in childhood and adolescence. And in this regard, it is fundamentally important in what environment Stalin grew up and was brought up.
There is a stereotype that he was born into the poorest and most illiterate family of a shoemaker-drunkard, had no serious education and grew up as an angry and resentful person.
This is only part of the truth.
Stalin was indeed born into a poor family. But he received a decent education by the standards of that time.
His character was largely influenced by his mother, a simple woman with a firm and resilient character and poetic nature, who passed on a lot to her son.
Any personalities and, especially, figures of a historical scale, act within the framework and limits determined by the objective social environment, and their personal qualities leave their stamp on their actions.
The explanation of many of Stalin's actions and deeds lies in the plane of predominantly psychologically determined motivations. At the same time, family relationships, relationships with their peers, reaction to the phenomena of the then social and personal life to a large extent influenced the fundamental features of his personality.
The family, the early years of Stalin's life (or as everyone called him Soso), the period of study at the theological school and seminary, as well as the social environment of that time left their mark on his formation. It was then that the main features of his character were developed and views and beliefs were formed.
Soso was born into a family of former serfs. His father Vissarion Dzhugashvili moved to Tiflis and worked in a tannery. The entrepreneur Bagramov opened a shoemaker's workshop in Gori and ordered the best craftsmen from Tiflis, including Vissarion, who soon became a famous master there and opened his own workshop. He married Keke Geladze, also a former serf, whose family moved to Gori.
According to the recollections of contemporaries, the young family huddled in one room of a tiny shack, no more than a chicken coop in size.
Soso was the third child in the family. His two older brothers died in infancy. And his mother had very tender feelings for him, while severely punishing him for offenses.
Soso's father eventually became addicted to alcohol and became a drunkard, drinking almost everything he earned.
All contemporaries note that the mother was a simple, early widowed religious woman, led an extremely modest, truly puritanical life and lived a strict, hard and honest life.
Her character was strict and decisive, but with a poetic nature. Her firmness, stubbornness, strictness towards herself, puritanical morality, stern and courageous character have always admired Stalin. Everything warm, loving that he could remember from childhood was personified for him in his mother, whom he loved and respected all his life in his own way.
It was the mother who passed on to him the traits of her character - firmness, self-esteem, vitality.
She remained like that all her life, and when he, being at the pinnacle of power, invited her to move to Moscow, she refused and lived alone in Gori.
Mother worked as a servant and a laundress in wealthy houses. When the father was drunk, the family lived in terrible poverty.
Iremashvili (childhood friend of Soso) talked about the rudeness and irascibility of his father, the cruel beatings of his wife and son, which led to the boy's contempt and hatred of his father. From constant drunkenness, he soon lost his clients and returned to a tannery in Tiflis, leaving his young wife and five-year-old son in Gori. And he died in Tiflis when Soso was only 11 years old.
The social and family environment, the factor of hopeless poverty, in which Soso grew up, became the foundation of a critical attitude to the foundations of society of that time and developed in him a desire for knowledge at an early age.
The mother dreamed of bringing her son to the people and wanted him to become a priest. This was the ultimate dream of her social class.
The father, on the contrary, wanted to pass on his profession to his son and make him a good shoemaker.
Education in a theological school
Gori was the second most important city after Tiflis. There were several religious schools and women's gymnasiums, which were rare for that time.
Children were admitted to the theological school mainly from the clergy and from wealthy families. Soso did not fall into this category.
The mother was given some assistance by the people for whom she worked as a washerwoman and a cleaner. One of them was the merchant Egnatashvili, who helped the poor. Perhaps he also paid for Soso's tuition.
The poor boy was given a monthly stipend of 3 rubles. And the mother was allowed to earn up to 10 rubles a month, serving teachers and the school.
The boy grew up in an illiterate family, was developed beyond his years and showed an ability to learn.
At the mother's request, Charkviani's neighbor taught Soso the Georgian alphabet. And his mother decided to send him to study at a religious school.
The school was four years old, but Soso studied there for six years. He was first admitted to kindergarten. And then, in the course of his studies, his father took him to Tiflis to a tannery. There the boy helped the workers, wound threads, served the elders. But after a while his mother took him back to Gori again.
In addition, two misfortunes happened to him in childhood. On Epiphany, a phaeton fell, crashed into the boys' choir and knocked Soso down, injuring his left arm, which until the end of his life did not fully unbend. Plus, to all the misfortunes, he was ill with smallpox, which left an ugly mark on his face for life.
During his studies at the school, Soso showed great ability and interest in acquiring knowledge. He possessed an exceptional memory and perfectly absorbed the explanations of the teachers. He quickly became the first student in the class and one of the best pupils of the school.
Over time, he began to show interest in the works of Georgian literature. The strongest impression on him was made by the novel "The Father-killer" by Kazbegi. The name of the protagonist of this work, who fought against injustice, Koba became Stalin's party pseudonym.
Iremashvili recalled that Koba became almost a god and the meaning of life for Soso. He wanted to become the second Koboi. And he insisted that everyone call him just that.
During these years, Soso got acquainted with the classics of Russian literature, with the works of Pushkin, Lermontov, Nekrasov. And I read adventure novels by foreign authors.
He loved to write poetry. And he often answered impromptu comrades with verse. He also learned to draw perfectly. He took an active part in concerts, amateur performances and was the ringleader of the church choir, having an ideal ear for music. At this time, his attitude towards literature and art, as well as artistic tastes and passions, was formed.
Soso's main occupation in his free time was reading books. The school library did not satisfy him. And he disappeared into the private library of Kalanadze, where he reread almost all the books available there.
The school trained mainly children of the rich. And Soso (despite the fact that he was the first student), due to his simple origin and the hopeless poverty of his parents, acutely felt the humiliation of his social position, being at the lower rungs of the social ladder.
Apparently, this was the first milestone that laid the foundation for his worldview, which already during his studies at the seminary determined his position as a person and a politician.
According to the recollections of his classmate Glurdzhidze, Soso was very religious. He was always present at divine services and not only observed religious rites himself, but also reminded his comrades of their significance.
Religious upbringing and education had a positive effect on the choice of his life path. Since the ideas of goodness and justice, underlying Christianity, dictated the need for a critical assessment of reality.
5 years in seminary
He graduated from college with the assignment of the first category, which gives the right of preferential admission to theological seminary. Where he entered at the age of fifteen.
He passed the entrance exams brilliantly. And he was enrolled in the Tiflis Seminary as a half board. That is, not at full government expense. His mother obviously had to pay some extra.
It should be noted that the content of seminar education and the amount of knowledge obtained by seminarians corresponded to the gymnasium level.
If the educational level of a high school student and a seminarian was approximately the same, then in general development the seminarians outnumbered the gymnasium students. A seminary graduate, after a screening test, could enter any department of the university.
The term of study at the seminary was six years. They taught theological and general education disciplines. Roughly the same as in ordinary gymnasiums.
The general education was based on the study of classical languages ​​and mathematics. During the first four years of study, students took a gymnasium course, and the last two years were devoted mainly to mastering theological disciplines.
Soso studied at the Tiflis Seminary for five years.
Along with theological subjects, he also studied general education, in which he had a great interest - Russian language, literature, mathematics, logic, civil
history
, Greek and Latin languages.
In the first two years, the presence of outstanding natural abilities and inherent abilities (an inquisitive mind, a brilliant memory, purposefulness, multiplied by curiosity and perseverance) allowed him to become one of the best students in the seminary.
He began to take an interest in secular literature and socio-economic issues. I especially loved civil history and logic. The framework of the seminar program did not satisfy him. And he was fond of historical literature, the history of the French Revolution, the Paris Commune, the history of Russia, he studied the works of Hugo, Balzac, Darwin, Feuerbach and Spinoza.
Soso studied well and stood out among his classmates for his erudition and independent thinking. He was actively engaged in self-education, read a lot, concentrating not on the study of theological disciplines, but with a predominant focus on social problems.
Showed a special interest in books forbidden for seminarians. This was permanent. And he was not afraid of various punishments, including placement in a punishment cell.
Life in the seminary took place under strict supervision. It was forbidden to voluntarily leave the seminary, visit theaters, gather gatherings, read unreliable literature, which meant almost all periodicals.
On Sundays, I had to stand church services for 3-4 hours, participate in church singing and reading. Going to the theater was considered a deadly sin.
Prohibitions backfired and sparked vigorous protest. Students started a secret library, began to publish handwritten magazines. The system of rather severe punishments could not eliminate the discontent of the seminarians.
The rebellious spirit that prevailed in the seminary before Soso entered there and during his studies could not but play an important role in his life.
A few months before entering the seminary, there took place a powerful strike of students, demanding the dismissal of some of the teachers. The discontent of the disciples was generated, first of all, by the regime that reigned in the seminary. Namely: the continuous surveillance and bullying that students were subjected to.
At the seminary, he continues to get carried away with reading Russian literature, paying special attention to the works of critical realism - the works of Shchedrin and Gogol.
He is also conquered by the works of Georgian writers Rustaveli and Chavchavadze.
He writes poetry. And six of Stalin's poems, which were very much liked by the classics of Georgian literature Chavchavadze, were published in the newspaper Iveria (in the most prominent place of the first page) under the pseudonym Soso.
His poem, dedicated to the Georgian writer Eristavi, in 1907 was included in the collection of the best examples of Georgian literature, as an example of love for Georgia. Here are some lines from this work:
No wonder the people glorified you,
You will cross the line of centuries
And let the likes of Eristavi
My country is raising sons.
In seminary, Soso from a lively and sociable boy turns into a serious, reserved and self-absorbed young man.
Reading became for him the main means of comprehending the world, comprehending the harsh reality and finding his place in it.
The subjects included in the seminary program broadened his horizons. But they were clearly not enough. And he looked for opportunities to develop his knowledge.
Soso began to regularly visit the private "Cheap Library", although this was prohibited by the seminary charter. And a second-hand bookstore where books were too expensive for him. He read them in this store itself and, thanks to his excellent memory, learned a lot.
He also took an active part in the creation of all kinds of circles, where students designed handwritten journals, expressed their thoughts and exchanged opinions on a wide range of issues, including social issues.
All this was in keeping with Soso's rebellious nature and contributed to his desire to enrich his knowledge.
During his seminary years he got acquainted with the scientific works of Darwin, Feirbach, Spinoza, Mendeleev. And he strives to arm himself with the knowledge of fundamental sciences.
It was thanks to the continuous process of self-education that Soso acquired extensive knowledge in various fields, as well as exceptionally wide awareness in many areas of knowledge. That later amazed many specialists who came into contact with him.
Formation of a revolutionary
The transformation of the rebel Soso into a conscious revolutionary was facilitated by his introduction to revolutionary Marxist literature.
He gets acquainted with Capital and the Communist Manifesto, as well as the early works of Lenin.
The repressive measures of the seminary authorities not only did not stop Soso from studying forbidden literature, but he began to actively involve his fellow practitioners in this process. And he becomes the organizer of one of the circles for the study of socialist ideas.
At his suggestion, a room was rented, where they met twice a week. During joint meetings, the members of the circle exchanged opinions about the books they had read, shared their understanding of certain theoretical problems.
Soso created and edited a handwritten student journal, passed from hand to hand, where he covered and clarified all controversial issues.
The leadership of the seminary had their informants among the seminarians, reporting on the forbidden actions of the students. In this regard, Soso already then paid a lot of attention to conspiracy and was in no hurry to trust even the nearest circle.
At this stage, he (thanks to his dedication and ability to consistently go towards achieving the goal) developed the qualities of a leader, capable of leading others. In addition to great willpower, firmness and determination, he developed such traits as secrecy, a tendency to conspiracy, distrust, caution, the ability not to demonstrate his true thoughts and feelings.
In his character, from his youth, extraordinary restraint, cold skepticism, open hostility to the purely external side of the matter are striking. At the same time, he easily took offense even at jokes and rushed at the offender with his fists.
The formation of Soso's personality proceeded under the powerful influence of the seminary. It was from there that he inherited certain canons, style, form and manner of expressing his thoughts, and to some extent even vocabulary.
His articles and speeches later showed a peculiar speech style and manner of argumentation inherent in the style of presentation of theological writings. He used various rhetorical techniques, including multiple repetitions of several key phrases.
And every time he won victories over his opponents. Even over the boisterous and colorful eloquence of Trotsky. Suffice it to recall his famous address in July 1941:
"Brothers and sisters!"
During his seminary years, Soso saw himself as part of the Georgian people.
But due to the multinational composition of the population of Gori and Tiflis, the national factor did not play such an important role for him. Still, elements of internationalism prevailed.
He saw that people are more likely to differ in their property status than in nationality. And later he opposed the existing system, guided not by Georgian national ideals, but by the doctrine of the class struggle.
Acquaintance with Russian literature contributed to the maturation in his mind of a sense of respect for the Russian people. And the Russian language became practically his native language, the language of expression of his thoughts.
And it was not just that Stalin said:
"I am not Georgian, I am Russian of Georgian origin!"
The atmosphere in the seminary was far from helping to strengthen Soso's faith and his religious beliefs.
He was finishing fifth grade. And he had one more year to study.
There is some evidence that he himself contemplated leaving seminary. There were all the signs that he was internally ready for this. Apparently, the oppressive atmosphere of the seminarian's life weighed on him.
Taking into account the facts of Soso's systematic violation of the rules established in the seminary, he was excluded.
The reasons for the expulsion were indicated
"Failure to appear for exams, rudeness, manifestation of political unreliability, godlessness, the presence of dangerous views and non-payment of the corresponding tuition fee".
Soso failed to graduate from seminary.
Apparently, he did not feel much regret for his exclusion. He was already ripe for choosing a different path. As one of his biographers noted,
"He entered the seminary at the age of fifteen, intending to become a priest, and left it with a rebellious worldview and revolutionary ambitions."
Once in a conversation with his mother, when he had already become the head of state, he tried to explain his position to her. And she couldn't understand him in any way. Then he reminded her of the king. And he said he was kind of like a king.
Nevertheless, when Stalin visited his mother shortly before her death, she told him:
"It's a shame you never became a priest."
Because she sincerely believed that the future of her son was not in earthly glory, but in the spiritual field.
Childhood and adolescence formed the main character traits of Stalin. Even then, he was an outstanding and talented person.
It was not for nothing that this man became one of the political geniuses of the XNUMXth century, who determined the world order of that time.
This was not the illiterate son of a shoemaker and a laundress. He was a man with a decent education, higher than a gymnasium. Who, thanks to self-education, reached heights in the knowledge of natural and social sciences.
He successfully applied his knowledge and abilities in the process of forming the first socialist state, as well as to achieve the set goals, while incurring (due to his tough character) serious costs and unjustified sacrifices.
Thanks to Stalin's willpower and determination, among other things, Russia became a superpower for the first time.
And she proved to the whole world the possibility of an alternative world order.