Ukraine has found ammunition for state testing of the Bogdana self-propelled artillery unit. According to Defense Express, the 155mm ammunition was supplied by the Czech company Excalibur Army.
According to the newspaper, at the end of December 2020, the contract for the supply of a large batch of 155-mm ammunition, concluded by the Ministry of Defense of Ukraine with a Czech company, was completed. The amount of ammunition in the batch is not reported, the shells are intended for testing the promising Ukrainian self-propelled gun "Bogdana". The delivery included practical and high-explosive fragmentation ammunition.
Note that the ACS has not been tested for more than a year due to the lack of NATO-caliber ammunition, for which the Bogdan was developed. The last shooting was reported at the end of 2019. The howitzer was tested at a training ground in the Dnepropetrovsk region. At the "zero" stage of testing self-propelled
weapon
checked by hydroshot (hydro-firing), then the so-called inert ammunition was used. The matter did not come to live shooting, the reason was not named.
At the same time, Ukraine immediately decided to focus on the fact that the Bogdan self-propelled gun mount "meets NATO standards." This refers to the caliber of the ACS.
It is alleged that the tests confirmed the ability of the ACS to fire at a rate of up to 6 rounds per minute. According to early statements from the developers, the maximum range when firing an active-rocket projectile is 60 km.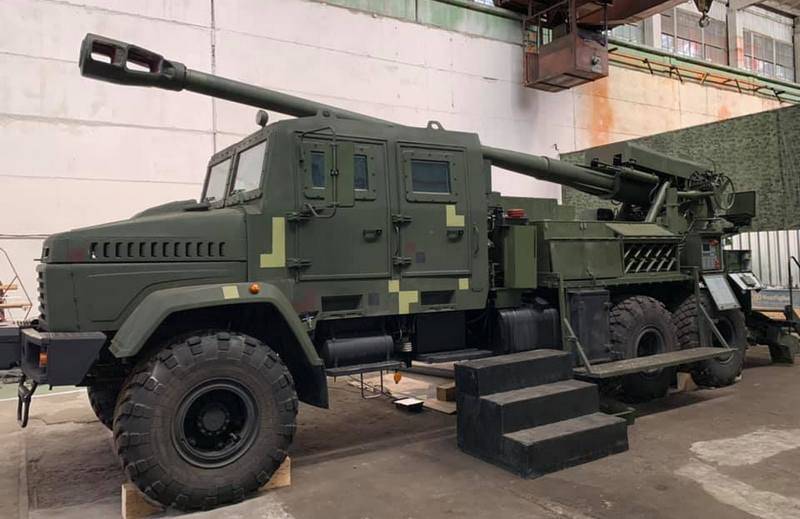 We will remind that for the first time a prototype of a howitzer was shown on July 14, 2018, and on August 24 of the same year, "Bogdana" was shown at a military parade in honor of the Independence Day of Ukraine. Currently, the only copy of the ACS 2S22 "Bogdana" is in the workshop of the Kramatorsk Heavy Machine Tool Plant, awaiting the start of state tests.