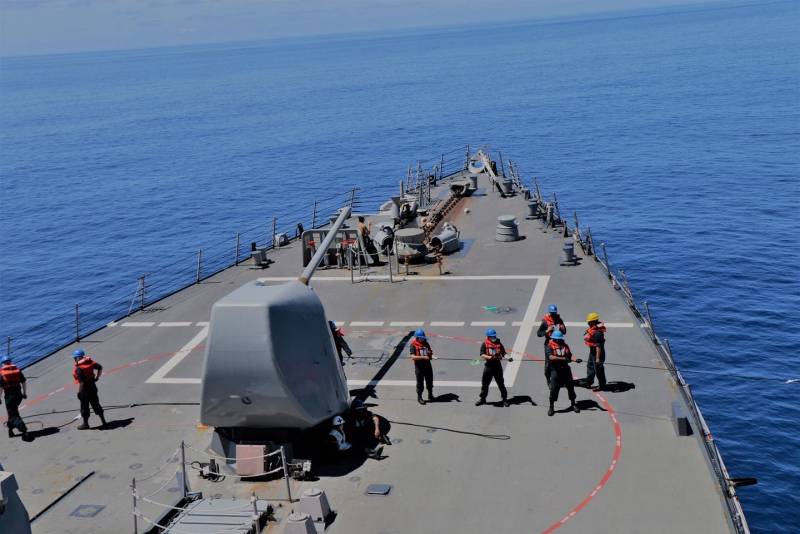 Two USS Arleigh Burke-class destroyers at once passed through the Taiwan Strait. These are the warships USS John S. McCain and USS Curtis Wilbur. The destroyers are armed with Tomahawk cruise missiles (CR). The passage through the strait, the Pentagon notes, "is a demonstration that the United States does not recognize Beijing's claims to the island of Taiwan."
It should be noted that just a few days ago the same destroyer "John McCain" was in the South China Sea, and the Pentagon announced a "mission to prevent excessive claims of Vietnam" on one of the archipelagoes south of Ho Chi Minh.
It turns out that the USS John S. McCain becomes a ship for the US Navy, which constantly "challenges someone's claims." At the same time, the command of the US naval forces does not speak of its own claims, while continuing to consider itself in fact a world gendarme.
The appearance of two American warships with cruise missiles in the Taiwan Strait is being commented on by experts and Chinese officials. Thus, the press secretary of the PLA, Wu Qian, notes that "the Chinese army is on high alert and can fight any challenges, threats and provocations to protect its sovereignty and territorial integrity."
And this is the statement by Wang Wenbin, Press Secretary of the PRC Foreign Ministry:
Instead of another provocation, the United States should have played a constructive role in ensuring regional peace and stability. While they do everything exactly the opposite.
Li Haidong, a professor at the Institute of International Relations of China, believes that the United States "continues to make attempts to play the Taiwan card":
China needs to be careful about this. They are trying to restrain us. Given the fact that Trump remains in the presidency for less than 20 days, such provocations near the borders of China may become more frequent.
At the same time, there is still no consensus in China about how the situation will change after Joe Biden's arrival in the White House.