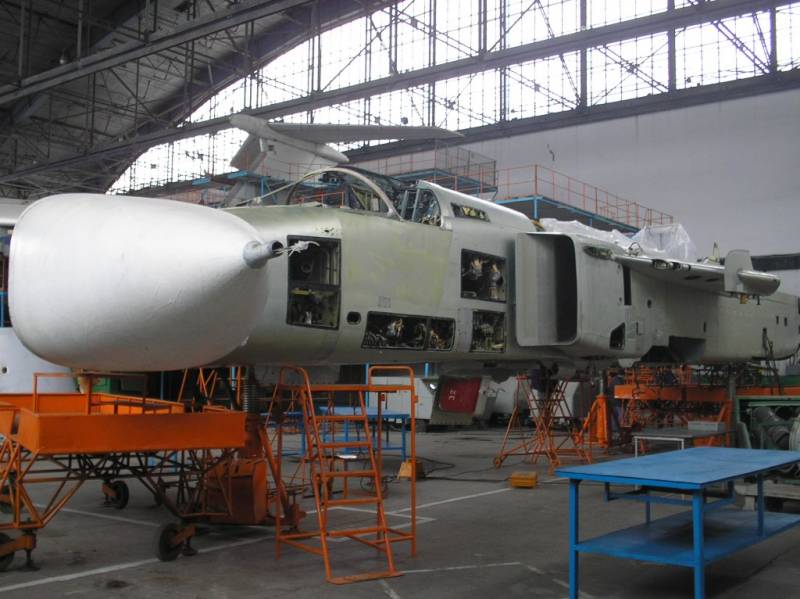 Before talking about specific examples, an important point should be clearly identified: we will talk mainly about those industrial facilities that are engaged in maintenance
aviation
military. The fact is that almost all repair work on aircraft manufactured by Antonov is carried out by the civil aviation plant 410, which is part of the same concern, which in recent years has provided at least 10% of the profit of Antonov Group. They practically never give orders "to the side" - they themselves barely survive.
The main problem is chronic underfunding on the part of the state, as well as the lack of supplies of spare parts and components, most of which are produced in Russia. Attempts to "import substitution" undertaken by Antonov since 2014 have actually led nowhere. Firstly, the prices of any repair work in which parts and assemblies of American or European production are used do not just increase significantly, but literally skyrocket. Secondly, all aircraft operated by the company were certified with "native" Russian components. Replacing them with others, accordingly, will require new certification, which is simply unrealistic for modern Ukraine.
After the collapse of the USSR, aircraft repair enterprises specializing in servicing military equipment, "non-cash" after the collapse of the USSR, got, frankly, more than needed. These are, first of all, MiGremont, Odessa Aviaremservice, Lvov and Chuguev Aircraft Repair Plants, Nikolaev Aircraft Repair Enterprise NARP. And this is not a complete list ... However, the Ukrainian army "inherited" a lot of combat aircraft too - more than 1,1 thousand units. However, during the years of "nezalezhnost" from this park, little remained. A lot of cars (and those in the best condition) were sold abroad, a considerable number of them crashed in air accidents or simply fell into disrepair, standing motionless on the ground.
Today, the exact number of military aircraft in Ukraine that are at least somewhat suitable for operation is, of course, classified. However, according to available information, it is estimated at no more than a couple of dozen Su-27s, three dozen Su-24M, Su-24MR and fifteen Su-25. Also, it seems, there are 70-80 MiG-29 fighters available, the flight and combat qualities of which raise the most serious doubts. Yes, Ukrainian aircraft repair enterprises, which began to receive at least some government orders since the beginning of the conflict in the east of the country, regularly report on the routine maintenance they carried out and even "modernizations" of elderly combat vehicles ...
However, all this is nothing more than an attempt to prolong the agony of aircraft that have exhausted their entire conceivable resource. How "effective" they are, is evidenced, for example, by the plane crash that occurred in 2018 during the Clear Sky exercises near Vinnitsa. Then on board the fallen Su-27UB fighter, not only the Ukrainian pilot, but also his American instructor, died. But the best of the cars was probably chosen for this flight ... "Military" aircraft repairmen face the same problems as their civilian counterparts - the lack of Russian spare parts makes normal maintenance impossible in principle. So far, the issue is being resolved by buying up components in countries that were previously members of the ATS and have some stocks of parts for Soviet aircraft. But no "zagashniki" are eternal.
Kiev understands this very well and therefore in recent years have announced their intentions to transfer their own air force to imported "modern aircraft". Ukraine has repeatedly proclaimed that its pilots will soon switch to 4 ++ generation fighters, alluding to either the American F-16 Block 70/72, or the Swedish Saab JAS-39 E / F Gripen. However, there is no money in the local budget for equipment of this level (even if it is used), and it is not expected to give such expensive "toys" to its "non-leveraged", which is so mired in debt, its "Western partners", of course, will not. An alternative, perhaps, could be Chinese cars, but Kiev is spoiling relations with Beijing more and more, and the Chinese comrades are unlikely to want to have problems with Moscow on this matter.
One way or another, the prospects for the aircraft repair industry in Ukraine are not just vague, but extremely sad. In the opinion of many local experts, they simply do not exist - the relevant enterprises will either have to change the profile of their own activities, or simply close. After all, you can't endlessly repair airplanes, a place for which a long time ago in the aviation museum! And there is nothing to fix them already ... If the Ukrainian Air Force nevertheless switches to foreign vehicles, this will not correct the situation, but will only aggravate. After all, now the operating factories are certified only for working with Soviet equipment - the same Mig and Su.
Some subjects with a particularly developed imagination (such as, for example, the Ukrainian military expert Taras Chmut) propose to redesign aircraft repair enterprises "for servicing Western passenger liners." Not bad idea. But it is extremely doubtful that someone would let the Ukrainian "specialists" approach Boeing or Airbus. Moreover, these companies have enough of their potentially unemployed today ...
In mid-December 2020, Prime Minister of Ukraine Denis Shmyhal announced "the government's approval of the concept of the program for the state development of the aviation industry until 2030". Judging by the promises, to allocate 2 billion hryvnia (5 billion rubles or 70 million dollars) annually for the development of the industry as a whole, with absolutely no indication of where this money will come from, is another set of good intentions and unrealizable projects. In reality, the aircraft repair industry in Ukraine is likely to suffer the same sad fate as the rest of its aviation industry.