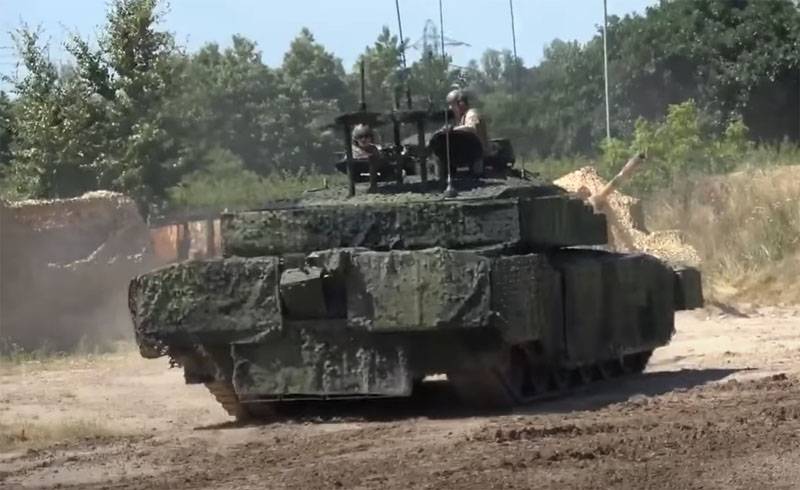 This version of camouflage does not save from detection by a drone, according to Britain
In Britain, material has been released that talks about an additional advantage
tanks
in the case of using new versions of the so-called digital camouflage. In particular, it is noted that the monochromatic camouflage of combat vehicles is no longer relevant today. The main reason is called - such tanks can be easily detected by drones from the air, even without the use of special infrared equipment.
Tanks with their usual camouflage patterns are becoming more and more vulnerable. They can be detected by drone operators using a conventional camera mounted on a drone. After that, an anti-tank guided missile will strike from the air.
To increase the level of safety of the tank crew and the protection of the armored vehicle itself, including from a blow from a drone, as noted, it is important to use modern digital camouflage technologies. So, for the "potential theater of military operations in Europe", it is proposed to use "multi-shade" camouflage in the green spectrum:
These are several shades - from yellowish green to dark green and marsh.
It is proposed to apply a "digital pattern" not in a chaotic sequence, but with a certain pattern. In particular: the lower and middle part of the tank should have a digital pattern in darker tones than its upper part - when it comes to the side projection of the tank. The camouflage of the projection projection from the top to protect against detection by cameras of drones should be created by "solid pixelation".
The multi-shade digital camouflage of the upper projection of the tank will reduce the vulnerability of the UAV due to the reduced visibility of the combat vehicle. Tests have shown an 80 percent reduction in signature
In this case, as stated, the tank receives additional advantages on the battlefield, becoming, in addition, less distinguishable from enemy tanks.
All these studies draw attention to themselves, especially in connection with the fact that the British Ministry of Defense has previously sounded statements about the need to reduce the number of tanks in the troops, or even completely abandon them.