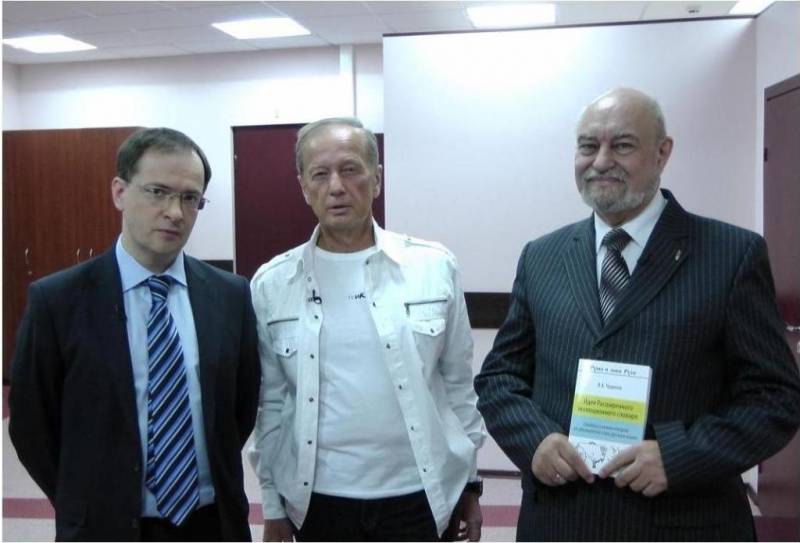 Do you know, brothers, where we Russians come from?
Who are the Slavs?
That's right, from the ancient Slavs. But who are the Slavs?
And the Slavs, brothers, this is such a people that it is necessary to tell about it separately.
The Slavs are the salt of the earth.
This is oh-ho.
Imagine the Earth like that a million years ago. What was there? Well, forests, rivers, mountains. All kinds of animals crawled. The monkeys climbed different trees there. And there were no people.
And what is a man? And a man is one who knows how to speak humanly.
And if someone knows how to speak, and someone does not, how to talk to him? You can't talk in any way. This means that you can only talk with someone who knows how. Right? And whoever does not know how is no longer a man.
The dog, here, is smart, and does not talk, so it is not a man. The cat is also not human. And the monkey is not a man, it cannot talk. What about a parrot? He is also not a man, he has wings and carries all sorts of nonsense, in general, does not understand.
I have a friend professor - a neighbor, he lives on the floor below. He has a parrot at home. Once I was in his apartment. I went on business. Take a hundred until payday. So I thought, at least you can talk humanly with the professor's parrot. But no. The same thing says:
"Eat, eat."
And the most full of these seeds.
I told him:
"Here you have it, eat it."
No, understands nothing.
And a person should not only talk, but also with the concept of being. Understand what he says.
So that's it. There was no man on earth then. Some monkeys without words and without a clue. And then suddenly people appeared. Where they came from - we are not told. Scientists are hiding.
I asked that professor, he says:
"Hard to explain. But in general, they came from monkeys. "
How did it happen?
There are these monkeys in the zoo and in the jungle. There are a lot of them. But somehow people do not come from them.
I ask - is silent. Or he says some clever words: "genesis" of some kind. And he doesn't want to explain it humanly.
Well, okay, the main thing he told me. He let slip that the ancient people had some kind of "vocal apparatus". And they improved it. Already in those days - an apparatus, can you imagine?
But everything is not so simple here. The device is one for all. Some had it. And the others, therefore, did not. Well, of course, those who had such an apparatus became people. And those who did not have - and remained monkeys.
And what kind of apparatus is this? And where did it come from? It is not clear yet.
Then I'll ask the professor again. He's a man, nothing. But cunning. Everything strives to slip away from answers, to wriggle out. But I'll get the truth from him anyway.
This means that the first people appeared. And they began to talk to each other. And what does the conversation consist of? From words. Got it? From words! Well, think.
I, too, did not immediately realize. But when I realized, I caught my breath.
The Slavs are the "Slavs". Those who can speak words.
Two people have learned to speak a word. And the rest cannot yet. These two are to each other - slavs. The third one learned - he also became a Slovenian.
And then they began to teach the rest of them to speak. Then women. Then the children. In short, a whole tribe of Slavs was formed. Got it?
The Slavs (or, more correctly, "Slovens") are the first people on earth.
But it didn't happen all at once.
From the time the first Slavs began to speak, before the whole tribe learned the language, do you know how much time has passed? Oh-ho-ho! Fifteen years, no less.
It is now children who are already three years old speak, and some even earlier. And in those days, in order for a person to learn one word, he had to repeat it all day. How many words can you learn in a year? That's it.
But they still had to hunt, pick berries, there are different bananas, cook food ...
There are no more than a hundred words a year. So, to learn the language, it took fifteen years (or rather, even twenty).
But they did it.
About the origin of other peoples
Well, the slovens lived in the forests. There are plenty of monkeys around, then it was still warm on Earth. And the slovens began to teach words from their kindness and the breadth of the soul of these monkeys.
Some of the monkeys immediately succeeded - they also became slovens. And those who did not work out well, with whom they had to suffer, those were called differently. Whom how.
Those who, instead of the words at first "gr-gr" turned out, those Slovenes called "Greeks".
Others learned to speak quickly, but they began to lie a lot. This will be asked:
"Why are you lying?"
And he is still indignant:
"I'm lying? I'm lying?"
That's how they first called them "yavrei". Then they turned themselves into Jews, so that it was not so obvious.
And the Germans - so those, in general, were the stupidest. They were taught, taught, nothing helps. They are silent and that's it. How dumb. Well, they were called that - "the Germans".
That's how they came up with names for all people.
Some, for example, loved to sleep even then, in ancient times. They were nicknamed "Spantsy". Now the name is "Spaniards". So they still have a siesta every day. Sleep, that is. They sleep during the day.
Others did not want to learn words. They were lazy. Everyone snorted:
"Fra" yes "fra".
So they were given the name - "Franks". Well, that is, the French.
And the British are not really "English", but "Naglichians". Because they were arrogant. They climbed all over here. Then they are not. This is not that way. The ancestors suffered with them. So they nicknamed it - "impudent". It was they who later changed the letters for themselves.
For the rest, the Slavs also came up with names.
Mongols? And the Mongols too. The Mongols descended from such special bald monkeys. Whose wool did not grow. They were naked. Hence the name:
"Mon-gol", that is, Maine is a naked, naked person.
In my opinion, everything is clear. They, the Mongols, even now have a beard barely growing.
If you think carefully, it immediately becomes clear who was who, while the Slovenians taught them their words. People did it.
But scientists on this matter, no gu-gu. They come up with some kind of "genesis" to hide the truth from normal people. Only we are Russian people. We need the truth - oh, how we need it. We have no life without her.
And if you think with your own head, then you can always get to the bottom of the truth.
As a professor, I told about my discovery of a scientific scale, he looked at me like that and said:
"Nikolai Pavlovich, dear, do not take bread from historians."
And he smiles.
This means that I am taking bread from historians by my discovery? Clear?
They are sitting there, academicians are different. They break their heads. But I just thought of it. Dotumkal, to which all their academies of sciences could not reach.
I asked the professor:
"What is the English word for historian's bread"?
"History's Delirium"
- is talking. And he smiles again.
A very, says Nikolai Pavlovich, a suitable name for your scientific theory.
Still, he's a good man. A professor, though.
About Rurik
Have you heard, brothers, who is Rurik?
The first Russian prince? No, not a prince. Take the above.
Do you know who he really was? Here, and I did not know. Now I know.
It turns out that our historians lied to us all the time about the vocation of the Varangians and all that stuff ... None of this happened.
After all, as we were told? The Russian people lived for themselves. And suddenly, for no reason, no reason, he called some Swedes to him. Go, they say, rule us.
And this same Swede came. Rurik. And he began to command everyone. And, most importantly, everyone began to listen to him. Could this be? Yes, not in life!
Here I, a Russian man, would not listen to any Swede. Who are these Swedes anyway?
Even now, the only thing I know about them is that Peter the Great defeated them near Poltava. Well, they also play hockey. And in those days no one heard about them in general. Maybe they weren't there at all?
And here they were immediately just like that - and in the rulers ... None of them were attacked!
And, in general, what kind of name is Rurik?
Piglet! It's a pig's name.
How could they be taken as princes with such a name? No, it cannot be that with such a piggy name, he is also a Swede, but he fell into the Russian princes. I will not believe.
Here in our neighboring workshop a Roma-Armenian works. So he is really, according to the passport -Romik name. I recently found out by chance. What does he call himself Romik? No, only Roma.
And then the prince (prince!) - and Rurik. The prince must be respectable. And not a Rurik.
I would have believed if the prince was at least Ruriy. Or Ryurian.
And Rurik is not. There are no such princes.
And in reality he was not Rurik, but Rarog. Rarog - in Old Russian means falcon.
And this is not a name at all. And as if a nickname or title. So in Russia, the main leaders were called. And Rurik - this is how the enemies of the Russian people changed him later. I think to ridicule him. Like the Russians are not a prince, not a tsar, but a "Rurik" of some sort.
Do you think I'm the only one who thinks so? Ha! And besides me, there are smart people.
Recently, a professor was shown on TV. So he explained everything: about Rurik and about Russia. Clear. In normal words. Without any "isms" and "genesis" abstruse.
He, this professor, stumbled across ancient chronicles to read. An ordinary person reads letters, words - that's all. And this one - learned to make out the secret meaning. Here, he sees a picture in a book, looks at it and reads what is written. And there, it turns out, letters are everywhere: some decoration - letters, laces, ties - all letters. Shadows are letters. Even clothes, where wrinkled, folds are different - all letters. So people used to leave secret messages to their descendants.
No one could read, but he could. I decoded it. The letters there, of course, are not all like ours. But they are similar. And in the annals there are many incomprehensible words. So he also guessed that if you rearrange a couple of letters in these incomprehensible words, then everything immediately becomes clear.
He explained everything there (in the program). He told how he did it. True, I did not understand everything. But still he is a smart man.
And now he reads these pictures as written. And there is everything about our
history
told. The whole truth that is hidden from us by various scientific academicians.
So that's it. This professor says that Rurik is not Rurik at all. But in fact - Prince Ivan. I forgot my middle name. Some kind of abstruse.
Ah, Manuilovich! Yes, Ivan Manuilovich Sokolov-Sineusov. Sokolova was his mother, and his father was Sineus. And he was actually not a prince, but a pharaoh (so it seems) of all Russia. Or "charaon". It does not matter.
And it is important that the word "Rus" in the Old Russian language meant, in general, the Earth. The whole planet. Then it turns out that Rurik (well, that is, Ivan-Manuilovich Sokolov) was the ruler of the entire planet. All in general - and Australia, and China, and the whole world. Not to mention Europe there.
He, Ivan, at first just worked in a local church. Some kind of monk. Or something like that.
Then people began to converge to him. Warriors from different countries.
Here he collected them. And in a couple of years he conquered the whole world.
And he became a charaon.
About Vasilisa the Wise
And his wife was also Russian.
Her name was Anastasia Votkinskaya.
In a simple way - Asya, Assa or Vassa. Well, that means Vasilisa.
Do you think, in fairy tales, why does Vasilisa the Wise come across all the time? So this is the wife of Ivan Sokolov. The king, by the way, is of a planetary scale!
And Ivan himself - he is Ivan Tsarevich, her husband.
It was only later, again, Westerners, that they rewrote history for us, wrote about him "Ivan-Rurik", "Ivan the Fool", "Ivan the Fool".
But in fact, he was a royal family, a "prince".
Anastasia also worked in the church at first. She was a nun. Something like that.
And then, when she married Ivana-Rarog, she became the Wise Kharaonsha.
About space flights
Are you wondering how so quickly Ivan-Rarog conquered the whole world in a couple of years? It's very simple.
The Russians were then the smartest and strongest. And most importantly, they had planes. You don't have to laugh!
This professor showed photographs. These planes are still found in various places. And the inscriptions on them are ancient in Russian. Only scientists hide it from us. They do not want to admit that the Russians knew how to fly a thousand years ago.
And Ivan-Rarog had a combat air fleet. And he himself was a first-class pilot. Therefore, the Russians flew to China, Australia, and America. And not only to America. We flew to the moon. To Mars.
Why are you laughing like horses?
Both on the Moon and on Mars there were Russian inscriptions. They can even be seen from space. Take a look, take an interest.
The same professor showed pictures on TV. There, in Russian, in huge letters (only visible from space), it is written that this is, they say, the possession of the great Ivan-Rarog, the sovereign of Russia.
He was buried there, on Mars, by the way.
So both the Moon and Mars are our Russian land. There are graves of our ancestors, okay?
Rurik and Jesus Christ
And Ivan-Rurik died at a ripe old age, he was already under ninety years old. But first, he fell into a lethargic sleep for two years. Then they did not know how to determine exactly whether a person died or not.
Therefore, he was placed in a special crypt in a coffin and closed. And two years later he woke up and went outside. Everyone decided that he was resurrected.
And when he really died, they put him on an airplane like a great pilot and carried him to the church for the funeral service.
And the plane has what shape? Cross shape.
So they put it on the body of the plane (and then they were made of wood). And he lay with his arms outstretched along his wings, as if flying.
This is how the artists of the time captured it. Lying on the plane, arms outstretched.
Well, then they took him to Mars. They buried there, as he bequeathed.
But the most important thing is that the memory remained.
At first, everyone was told about how Ivan-Rarog was resurrected. And then, as he lay on the cross. The drawings remained. They venerated him as a saint.
It was only later that they came up with the idea that it was like Jesus Christ. And that he was supposedly crucified. And he was resurrected.
Nothing like this! It was our Russian ruler Ivan-Rarog Sokolov-Sineusov, the king of the whole planet - Russia!
And nobody crucified him. And the fact that he allegedly hangs on the cross is not hanging, but lying.
They are taking him to the cosmodrome to bury him on Mars.
And he did not rise again, but simply lay in a lethargic sleep for a year or two. And then, as you know, Jesus Christ lived two hundred years later.
But, of course, he was also an outstanding personality. Even though he is a Jew. But, of course, not the same as our Vanya Sokolov.
Conclusion
It is necessary, brothers, to study and know your history. Otherwise, we will live like this, knowing no truth.
It's good that there are people like that, like the professor who can explain everything clearly and sensibly. So that an intelligent person understands.
So I just watched the program. And I understood everything.
So watch more TV.
They show a lot of clever things there now.