Turkey wants to change the 1923 Lausanne Treaty. At least that part of it, which speaks of the Turkish-Greek maritime borders.
This was reported by the Greek newspaper Katimerini.
The Greek press reports that on Mondays, Turkish Energy Minister Fatih Donmez raised the issue of the need to revise the provisions of the Lausanne Treaty, concluded in 1923 between Turkey on the one hand and Britain, France, Greece, Romania, Italy, Japan and Yugoslavia on the other. Then, according to the agreement in Lausanne, the Ottoman Empire ceased to exist and the Turkish Republic was born. The modern borders of this state, including the sea border with Greece, remain unchanged to this day.
Donmez believes that the treaty, which secured the results of the First World War, requires discussion and revision a hundred years later. In an interview with Turkish TV channel Kanal 7, he accused Greece of escalating tensions in the Eastern Mediterranean.
If you see what Greece is supporting, it is like keeping us trapped on our shores.
- the minister said.
In Turkey, many consider the provision enshrined in the Lausanne Treaty controversial, according to which the islands and rocks in the Aegean Sea, located off the coast of Anatolia, were transferred to Greece. Ex-Prime Minister Ahmet Davutoglu wrote in one of his books that these islands are a natural continuation of the Turkish land mass, therefore, should belong to Ankara. Without them, Turkey is allegedly trapped in its shores.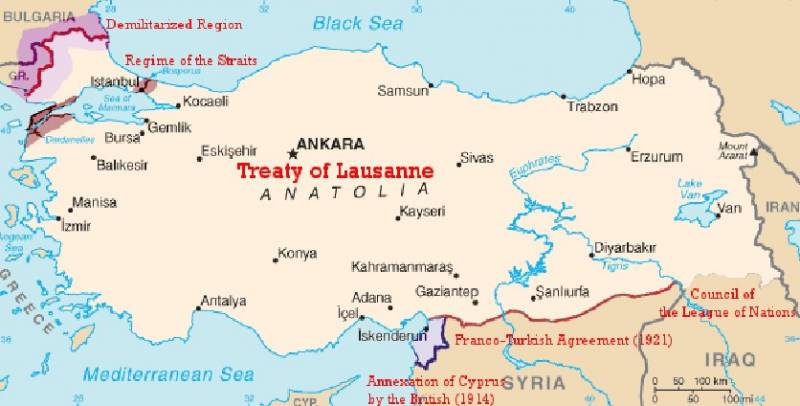 Recently, President Recep Tayyip Erdogan announced that he would defend the sovereign rights of his country from cyberspace and outer space to the "Blue Motherland", as the Turks call the part of the Mediterranean Sea, which, in their opinion, should be influenced by Ankara.