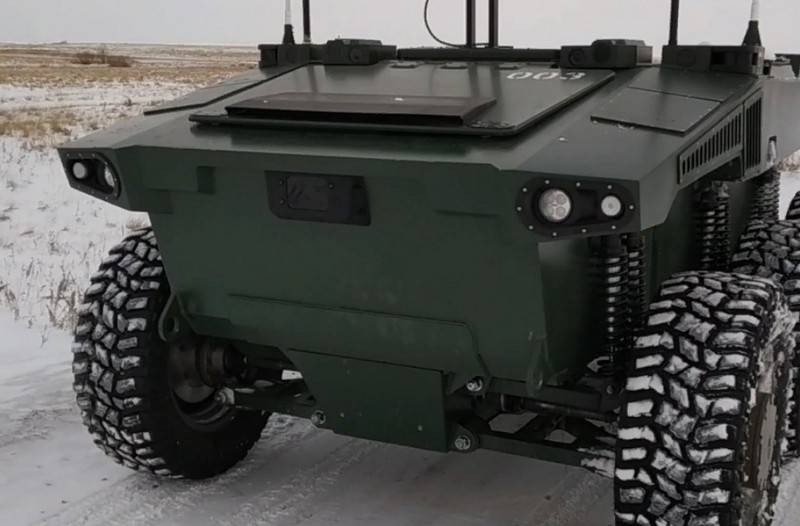 The experimental robotic platform "Marker" was tested in a completely autonomous mode, the tests were carried out in the Chelyabinsk region. This was reported by the press service of the Foundation for Advanced Study (FPI).
According to the report, the platform automatically covered 30 km along an unprepared route - forest-steppe with snow cover. Having received the route assignment only with the coordinates of the point of arrival, "Marker" independently laid the route and ensured arrival at the destination in an hour and a half, relying on the data of the technical vision system.
The autonomous control system of the platform movement provides autonomous laying and adjustment of the route of movement in the event of obstacles - trees, rises, ravines, bushes, etc. The technical characteristics of the platform provide the possibility of autonomous operation for up to 48 hours on paved roads and up to 24 hours on rough terrain
- says the FPI message.
In the future plans of the developers, the autonomous movement of the platform over a distance of 50, 100 and 200 km.
The beginning of tests of the robotic platform "Marker", created jointly by the Foundation for Advanced Research and NPO "Android Technology", was announced in early March 2019. The platform is designed in a modular fashion. In the future, such a technical solution will make it possible to quickly replace the payload, observation systems, and also upgrade the robot.
The ultimate goal of the Marker project is to create a completely autonomous complex capable of independently performing a wide range of works. The operator will be able to set a task, and the robot will solve all other issues on its own - to build a route, look for a target and use weapons.