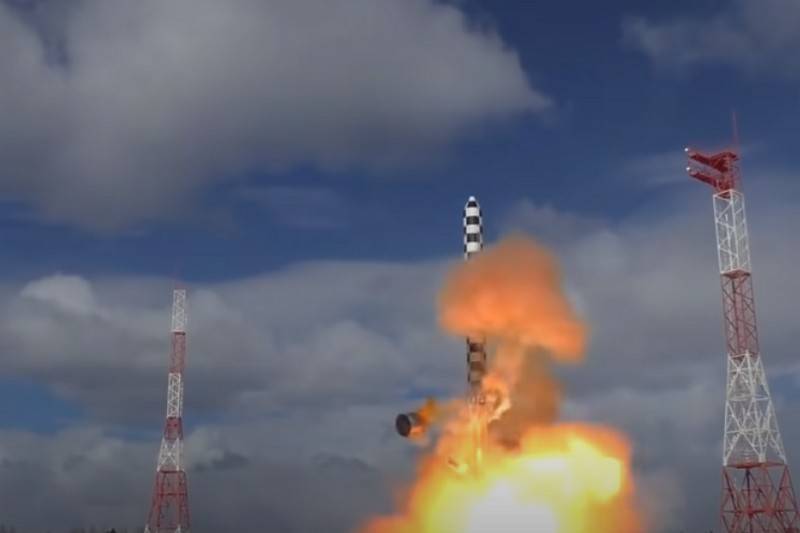 Flight tests of the newest Russian intercontinental ballistic missile (ICBM) "Sarmat" will begin shortly. Russian Deputy Defense Minister Alexei Krivoruchko stated this in an interview with the Krasnaya Zvezda newspaper.
Krivoruchko recalled that the creation of the newest complex with the heavy Sarmat ICBM is underway in Russia. Currently, the stage of missile throw tests has been completed and the next stage will be the flight test stage.
I would like to note that today the Sarmat missile throw tests have been completed with a positive result. In the near future we will start flight tests of this missile system.
- he said.
Earlier, the Ministry of Defense stated that the end of flight design tests of the new Sarmat ICBM was set in 2021. In the same year, the industry will have to master the serial production of a new
weapons
and related systems. The deployment of the Sarmat ICBM on combat duty of the Strategic Missile Forces is scheduled for 2022. This information was confirmed by the commander of the Strategic Missile Forces Sergei Karakaev.
The RS-28 "Sarmat" ICBMs are being prepared to replace the world's most powerful silo-based ICBMs, the RS-20V "Voevoda" (NATO - SS-18 "Satan"); the missile will become the carrier of the Avangard hypersonic blocks.
The Deputy Minister also paid attention to the Zircon hypersonic missile. According to Krivoruchko, serial deliveries of the new missile in the interests of the Russian Navy will begin in 2022.
He noted that within the framework of the rocket development program in 2020, successful launches were carried out from the board of the frigate Admiral Gorshkov.
And starting from 2022, their serial delivery will begin.
- added the deputy minister.
As previously reported, in 2021, the Zircon hypersonic missile will enter the stage of state tests, within the framework of which a number of missile launches will be carried out from a surface ship and a submarine. The frigate of the Northern
fleet
"Admiral Gorshkov" and the nuclear submarine "Severodvinsk".