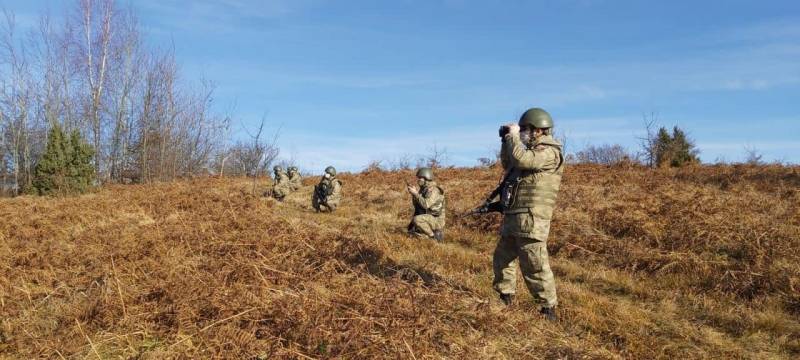 Turkish Defense Minister Hulusi Akar made a statement that after the agreements, Turkish servicemen left for the territory of Azerbaijan as part of an observation mission.
The Turkish military department stressed that it is a question of "a limited contingent, which will be deployed in the joint control center of the situation in Azerbaijan." The number of the Turkish military contingent sent to Azerbaijan was also named.
Hulusi Acar:
We sent 35 of our officers and one general to the joint monitoring center.
The Turkish minister's statement says that the main task of the Turkish military in Azerbaijan will be monitoring the agreements reached after the parties stop fighting.
It should be recalled that the fighting in Karabakh ended on November 9 after 44 days of war. Moscow contributed to the end of the armed conflict. Russia has brought in up to 2 peacekeeping troops to Nagorno-Karabakh, and there are also servicemen of a mine action center and specialists from the Ministry of Emergency Situations.
A clash took place in the Hadrut region a few days ago. According to some reports, the shootout took place between the Azerbaijani military and representatives of the Karabakh side, who found themselves behind enemy lines and could not get out of there in time.
The Turkish military, as noted, are planning to conduct monitoring using unmanned aerial vehicles, as well as to carry out car trips across the region in order to "monitor how both sides of the conflict are fulfilling their obligations."
Earlier it was noted in Russia that the Russian-Turkish joint monitoring center will deal with the issue of "ending the presence of mercenaries" in Karabakh and in the adjacent territories.
According to the latest information, Turkish officers arrived in Azerbaijan.