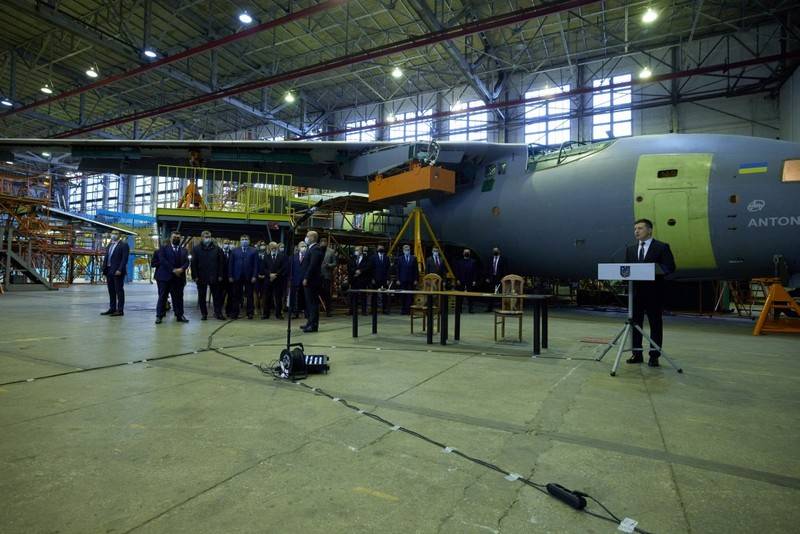 The Ministry of Defense of Ukraine intends to purchase three military transport An-178 for the Armed Forces of Ukraine. The agency signed a memorandum of cooperation with Antonov on the construction of aircraft for the needs of the Armed Forces of Ukraine.
According to the Ukrainian edition of Defense Express, the signed memorandum provides for the purchase of three new An-178 military transport aircraft by the Ukrainian Defense Ministry. It is emphasized that the production of aircraft must go under state guarantees. A loan for this should be issued by one of the state banks of Ukraine, and the government should act as a guarantor of the loan repayment.
The signing of the memorandum took place with the participation of Ukrainian President Volodymyr Zelensky.
(...) new Antonov aircraft for the Armed Forces of Ukraine will be built by Ukrainian citizens, from Ukrainian components, for Ukrainian interests. Actually the way it should be
- said the head of state.
Director General of Ukroboronprom Yuri Gusev said that he expects to conclude new government contracts for the manufacture of AN-178 aircraft from 2021.
The fact that the Ukrainian Ministry of Defense intends to purchase three An-178 aircraft for the Air Force of the Armed Forces of Ukraine was reported in September this year. At the same time, it was emphasized that in the future, the number of ordered An-178s for the Armed Forces should increase over time.
The An-178 multipurpose transport aircraft is a development of the An-148 / An-158 regional aircraft. The design of the aircraft was carried out without the use of design documentation, which led to a misalignment of the aircraft due to miscalculations of the designers. The aircraft has not yet reached the stage of mass production.
According to the developers, the aircraft has the following characteristics: flight altitude - 12 km, range - 5500 km, maximum speed - 825 km / h. The shape of the fuselage and ramp allow you to transport bulky goods weighing up to 18 tons, including containers.
For our part, we note that for the entire time after the breakdown of cooperation with Russia, Ukraine managed to assemble only two aircraft without Russian components: An-178 and a demonstration copy of An-132D. All aircraft designed by Antonov depended to a large extent on Russian parts, and the Ukrainian government does not allocate funds for import substitution of components.