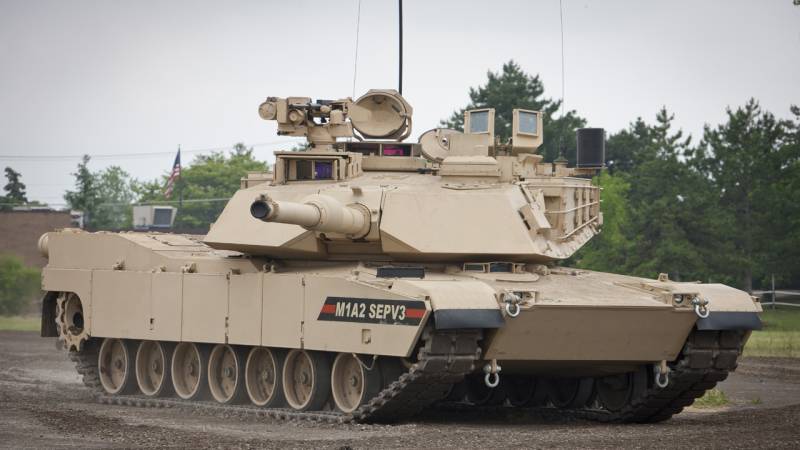 It became known about a major contract in the military-technical sphere, signed in the United States of America. We are talking about the contract of General Dynamics with the Pentagon.
The amount specified in the contract is $ 4,6 billion. But these are not the final figures.
On the basis of the signed contract, GD undertakes to supply the updated main combat
Tanks
(MBT) M1A2 SEPv3 Abrams. Moreover, all deliveries must be completed by 2028.
Initially, General Dynamics has already received a considerable amount from the US military budget - $ 406 million. It was a kind of advance payment. Thus, the total amount will be more than $ 5 billion.
At the same time, it is not yet said about a specific number of MBT "Abrams", which will be delivered under this agreement.
The American military-themed press tells about what updates the contracted version of the tank received. In particular, it talks about updating the fire control system, increasing the efficiency of the fuel system. The tank has reduced fuel consumption, which, accordingly, leads to an increase in the distance that the M1A2 SEPv3 Abrams can cover before the next refueling process.
Communications from General Dynamics indicate that the new version is designed to "accept future updates without problems."
From the company's release:
The new version of the Abrams tank has unsurpassed firepower, maneuverability and shock characteristics.
The tank has a manual-loading 120mm smoothbore cannon. It is said to be capable of firing at both ground vehicles and low-flying enemy aircraft.
GD General Manager Don Kochman:
We are delighted to continue our support for the army in terms of upgrading the Abrams main battle tank.